Justin Bog's first full length literary crime novel, Wake Me Up!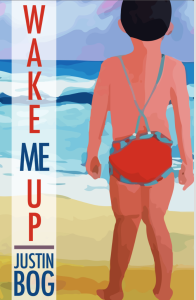 A FATHER IS HAUNTED BY HIS PAST — HIS WIFE LIVES HER LIFE IN A RIGID SHELL — THEIR SON, UNTETHERED, DISCOVERS THE SECRET THEY SHARE WITH DEEPIKA, A VISITOR TO THEIR TOWN.
"I see all of these people. They're living and breathing and acting on their basest impulses. I lay in a coma. They live. I hover over all of them, all at once. I can see my body, motionless, wired up, adrift. And I can find out why this happened. This is my story and I won't remember any of it when—if—I wake up. But I'll try to remember—I'll try damn hard."
MIDDLETON, MONTANA —OCTOBER 2004—AN ELECTION YEAR
A small college town's populace is tied, complicitly, to the brutal attack of a teenage boy by four of his classmates. Soon, heated rumors of a possible hate crime surface. Injustice is a hungry beast.
While Chris Bullet remains unresponsive in a coma, his skull shattered, he floats above dire circumstance. In this phantom state, compelled to witness his past once more, the family's darkest secrets, hidden over generations, will be aired.
"Wake Me Up is ultimately a novel about how lives connect and disconnect. Its theme centers on a pivotal moment in time, one that can reconnect fractured relationships or pull them farther apart. The intelligent, original, and heart-wrenching storyline is one we will all relate to, as it asks the difficult questions: Do we choose love and forgiveness, or do we judge and hold on to the pains of the past? How we proceed will define the meaning we give to our lives today.
It's an important and enduring theme throughout the book, one that is told masterfully. Wake Me Up by Justin Bog is an extraordinary debut novel." —from Eden Baylee, author of Stranger at Sunset
Wake Me Up is now OUT OF PRINT. A new edition will be published in July 2016. Please look for this title with an updated book cover!
---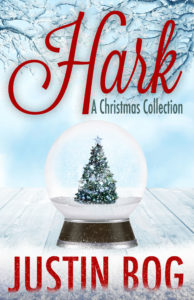 A beautifully written collection of short stories from critically acclaimed Pacific Northwest writer Justin Bog, Hark—A Christmas Collection explores the range of emotions surrounding the holidays.  From melancholy to madness, loss and despair to hope and forgiveness, these six tales shimmer with feelings, some we'd rather stuff away, that Christmas can evoke.
Spanning from Anacortes, Washington, to Ann Arbor, Michigan and Sun Valley, Idaho, each tale focuses on people who struggle to make good choices, learn lessons, and maybe even find peace.
Within Hark—A Christmas Collection, a retired police officer faces another Christmas Eve while bitter recollections haunt his every turn, a lonely woman plans to seduce Santa Claus one Christmas Eve, a widow grows anxious as she searches for a present she misplaced and intended to send to her ungrateful sister, a woman can't keep the images of her past—these ghosts—from haunting the life she chooses to live, a young gentleman and his partner join a Christmas party in Sun Valley, Idaho and are taught a lesson most un-holidaylike, and, finally, a couple portrays Mr. & Mrs. Claus in their small island town holiday festivities and face a grim diagnosis together.
Hark is now OUT OF PRINT. A new complete edition with more holiday stories will be published in November 2016 with an updated book cover! Please look out for this cool stocking stuffer book!
---
Ten literary, psychological, and suspense tales collected in Sandcastle and Other Stories are nothing short of an adventure through a roiling sea of emotion. An old man twisted by fate and a lost love . . . a young girl playing on the ocean shore becomes entangled in nets of a mercurial god . . . a divorced man mired in troubles, coerced into taking a singles cruise . . . a Hollywood actor in a television drama, always typecast as the bad boy . . . a child kept awake by night terrors, and a woman who hides her secretive personality from everyone on the beach one sunny day. Genuine voices of the characters, mixed with a clear-eyed tonal directness, make this a series with mesmerizing psychological interaction. Stories span a broad depth of human understanding and build a bridge between deepest chasms of pain and high portals of joy. Read Sandcastle and Other Stories and stand witness to unspeakable hate sitting with cozy wile, right beside unconditional love — a provocative and compelling mirror on the human condition.
Psychological Thrillers!
Sandcastles and Other Stories: The Complete Edition is now OUT OF PRINT. A new third edition of Sandcastle and Other Stories will be published in June 2016. Third time's the charm! Please look for a wonderful brand new book cover design!
The cheerful, beach-y version of Sandcastle and Other Stories is now Out of Print. Fortunately, there are still Used and New copies of the book available through secondhand retailers.
Used copies of Sandcastles and Other Stories can still be purchased:  Amazon US paperback  
---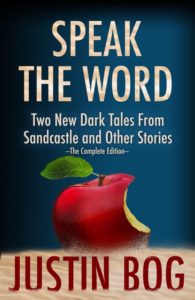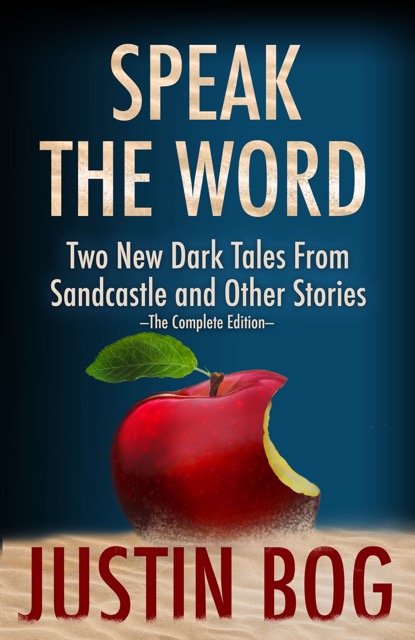 SPEAK THE WORD contains the two new dark tales added to the original ten to form Sandcastle and Other Stories: The Complete Edition, and a peek at the first chapter of Justin Bog's next psychological thriller.
THE APPLE — One fateful evening, in a single moment, a man and his wife hover between peace and upheaval.
SPEAK THE WORD — A Texan bears the brunt of his fire and brimstone-filled life, and after a shocking turn of events, begins to test his own faith.
If you enjoy these two tales, find more darkness in the award-winning collection, Sandcastle and Other Stories: The Complete Edition, which reveals twisted secrets that are mined like plutonium. These twelve literary tales are nothing short of an adventure through a roiling sea of emotion. With authenticity and eloquence, author Justin Bog holds a provocative and compelling mirror on the human condition.
Speak the Word is now OUT OF PRINT. Please look for a new eBook-only redesign coming June 2016. 
---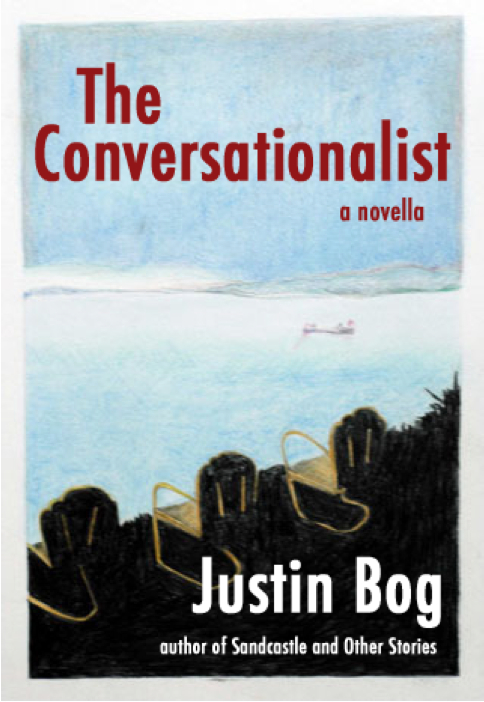 The Conversationalist (an eNovella) is no longer available online for any eReaders. This is a literary suspense novella set on Fidalgo Island north of Seattle, and involves thirtysomethings and how they date in today's social media-saturated world. Start a dialogue with The Conversationalist . . . see what happens.
There's something wrong with Patrick. People whisper about him; most want to help him, as if he's a songless bird with a broken wing, make him a project, set him up on a date with a best friend . . .
On one such date, Wendy sits across from Patrick and tells him she's afraid to die. She wonders what it's like. What if this is all there is? "My mother died a year ago . . . horribly," she says. Patrick listens; it's all he's pretending to do.
There's something wrong with the way Patrick treats the women he dates, his friends, his family . . . no one can ever get close to Patrick, and no one will ever be able to uncover his secret.
Enter Justin Bog's dark world and strike up a dialogue with The Conversationalist.
Included: a Foreword by Rachel Thompson, author of Broken Pieces, and a bonus short story, Mothers of Twins, from Justin Bog's first collection of psychological tales, Sandcastle and Other Stories.
This title is no longer available through the usual channels, but look for The Conversationalist as part of the upcoming title HORRORSTRUCK, a collection of four dark novellas in the next year.
---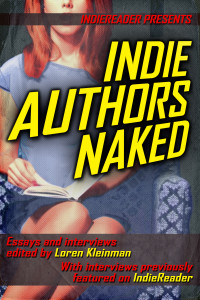 Indie Authors Naked explores and defines the world of independent publishing.
Comprised of a series of essays and interviews by indie authors, booksellers and publishers, readers will get a look at the many aspects of the indie community, where publishing professionals of all types come together with the simple goal of creating something unique; something that speaks directly to the reader, no middleman necessary.
Contributors include: James Franco, Hugh Howey, McNally Jackson Books, Sarah Gerard, OHWOW Books, Raine Miller, David Vinjamuri, Toby Neal, Rachel Thompson, Eden Baylee, Christoph Paul, Jessica Redmerski, Dan Holloway, Orna Ross and more.
Indie Authors Naked can be purchased:
AmazonUS  |  Amazon UK  |  Smashwords