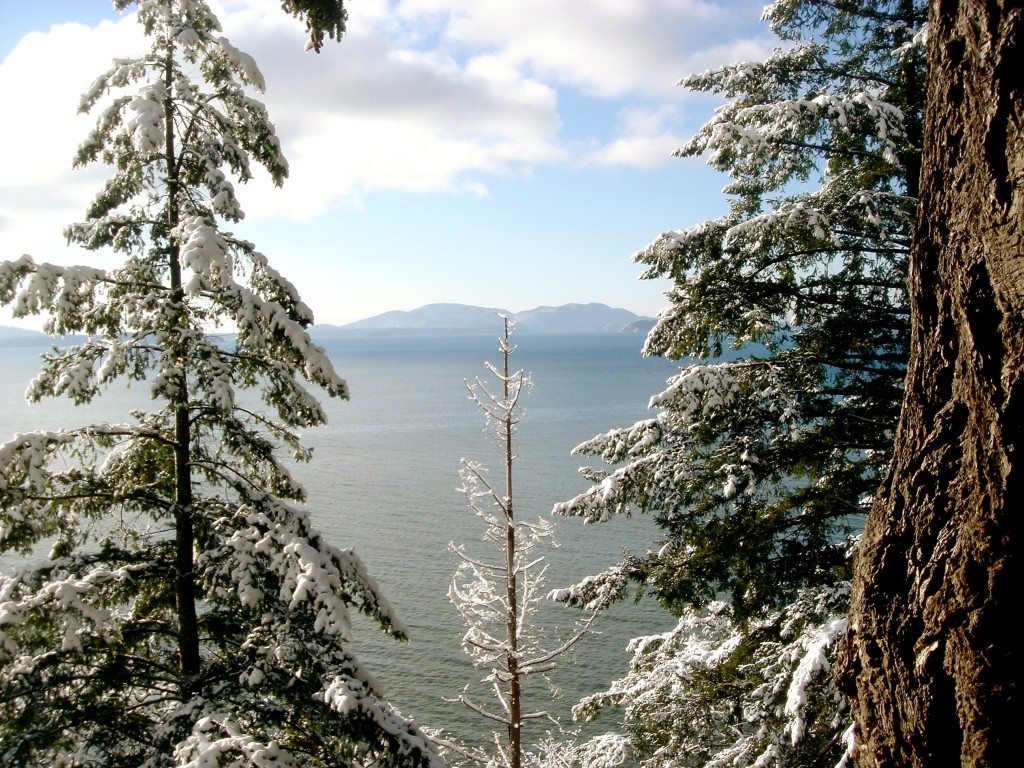 Here is a replay of Seducing Santa, the first holiday tale published on A Writer's Life Blog in December 2011 — Bracelet (click title to read this new tale) will be published in December 2012 so please look for that story soon. This photo was taken one Christmas drive up the most scenic beauty road in Washington State, along The Chuckanut Drive, looking back across The Sound at the land that makes up Fidalgo Island. I live in a place that gets four seasons. It may snow once a winter and I like to make the most of it. I hope everyone has a great holiday season beginning with Thanksgiving. May your family time be memorable.
There are so many ways to celebrate the Holidays, and I love writing about how different people choose to entertain as Christmas approaches. Before I reveal this year's holiday story, here are some Kipling and Zippy photos taken today on an overcast day. Enjoy:
See how big Kipling is now!
They play well together now…
Seducing Santa: A Short Holiday Story
It's Christmas Eve and I have the whole night planned. I make dark chocolate rum cookies and spread them artistically on my good French china and, afterwards, I take a bath with jasmine-scented skin softener. I put on a new red lacy negligee, with a matching (warmer if I'm going to wait long) robe with dainty, feathery slippers, the kind that look like you have racy pompoms on your feet. I light all the candles in my living room, tall ones, thin ones, and wide ones, placed on the bookshelves and the end tables and turn off all the house illumination except for the flickering white lights of my small, tabletop Christmas tree. Then, I settle a bottle of Veuve Clicquot Rose into the ice bucket, ready to serve, and sit on my puffy couch, my legs tucked under me, waiting.
* * *
Is it silly to want someone so badly you'd do anything to be around that person? I'm known as a person who doesn't rein in her passions. The Mr. Spocks of this world can kiss my sweet personality. Believe me, I'm really not speaking as any kind of stalker. I've never been a fan of celebrity. And, no, I didn't have a poster of Kurt Cobain or Luke Perry on my wall . . . really (Okay – I will say one thing — I don't think Courtney Love is a great role model. Who does she think she is anyway?). I'm not that desperate. You be the judge. Ask me if it's silly to want someone so badly you'd act like a complete fool, I'd have to answer: no, with reservations, of course. I think murder is out of the question. I can't think of any situation where I'd kill someone just to get what I want. On the other hand, I've been thinking about Mrs. Claus a lot.
I picture the goody goody the day after Christmas, rocking in her chair because she can't help being in motion even while sitting – she worries about her husband too much. As a kid, whenever Christmas rolled around and a teacher, parent, art mentor, said, "Draw Santa and Mrs. Claus," ten to one, everyone sketched Mrs. Claus in a red dress (the more talented would make it gingham), a bonnet to match, tiny wire-rim glasses, rocking away in some wooden rocker, knitting her husband a new red suit for next year's jaunt. But I wouldn't kill Mrs. Claus; I couldn't. And I'm just fantasizing anyway. Who I really want is the jolly St. Nick himself, the world's chimney sweeper and master reindeer-whipper.
I have a very cool, aloof if you will, personality. I find it hard to choose men because I never want long, binding relationships. I don't think it's possible for one person to love another person so much that they mate for life. For true love to happen you need to have separation, a little distance to make yourself realize that love can rub you raw. I couldn't be with someone else every hour of every day anyway. Look at Romeo and Juliet. When they were running around, meeting secretly, kissing each other passionately, they had the most fun. It's only when they started to contemplate being together forever that problems and poisoning occurred.
* * *
I run my own candle-making business in the upscale town of Petoskey, where it's sometimes hard to make a living, and in this economic climate, nearly impossible for the less established businesses. The townies support the locals who've been here forever and my family has been here since the town was incorporated. I never left after high school. Northern Michigan is not the place to be to start a business you think will thrive all year long. It just won't happen, but the tourist trade from late spring to Labor Day and a few weekends after that, keeps me solvent. Electrical storms are also welcome in my book; if the power goes out, people buy more of my candles. Anyway, I'm one realistic woman who doesn't expect the glittery extravagances surrounding her to make her world glow with happiness. And, I repeat to myself, – it's like a daily, sickening, new age mantra – this: I don't really need a man to make me happy. (Why need a man when I can have a mantra daily?) Up here in northern Michigan the pickings are slim to none if you're into men, and I am into men every once in awhile, but like I said, I'm very aloof and a bit choosy. If I date, on average, more than one man in a twelve-month period I call it a banner year. Running your own business keeps me too busy to take on a stray.
* * *
Three years ago, when I first opened Wick and Wax, I met a man named Rudy at the Mitchell Street Pub. He was sitting at the bar watching World Wrestling Entertainment. Later, even though I knew the answer to my own question and was just playing the slightly confused short-haired brunette, a defensive role, I asked Rudy what WWE stood for. Then, I, dimly cringing inside, asked Rudy why it was changed from WWF – the F for Federation somehow made more sense to me, although, currently, I didn't follow any sports. Who has the time to do so? With my newly found retail knowledge I knew that most athletes didn't buy candles in large quantities. I studied Rudy as he sipped a foreign beer out of a fancy bottle. I sat at a table close by and surveyed the crowd: a Wednesday night with maybe fifteen others who sat huddled in the booths, couples with wine, party drinks and loud laughter. Rudy intrigued . . .
He had this big red nose. I mean, in an animal fable, I would've said: it almost glowed. I didn't know if he had low self-esteem problems like most of the vagabonds who escaped to this part of the state. If he was teased as a kid a lot, I didn't want to mention his nose since I thought it made him unique . . . intriguing. I'm no spring beauty queen either. I don't have any real wishes, maybe a little more on the bust and, perhaps, a bit hacked away from the back of my thighs, yet I do yearn to wake up one morning so wickedly gorgeous I'd have twenty reputable men pounding at my door. That night at the Pub, however, you got what you got. Rudy was a catch; he was the only man who sat alone without a wedding band, and this is important to me because I think married men expect too much and I've never fallen for any member of that tribe, never ever ever ever have I ever been interested in a married man before. They're like bullies on a school playground, rings forefront and still pestering all the girls, all at once, the worst of them leading Betty behind the slide and telling her she's the only one, when in fact, little Cindy Lou or Noelle would also suit his needs, hiding his wedding band in his inner suit pocket, the kind with the button. I want a man who wants one thing only, and that's me. I took my drink, scotch and water, and sat next to Rudy.
Even after a lifetime subscription to Cosmopolitan, I didn't know how to start a flirtatious conversation. I didn't want to be seen as forward by asking him if he was, in fact, married and happy with three kids back home in Charlevoix where he worked, if he worked, and when he smiled and said, "Yes," have to slink away, and not in a good way. Boring small talk makes me wince. I asked Rudy if he knew a lot about wrestling and told him a distant cousin was on the pro circuit. Rudy looked at me, and said, "Oh yeah?"
"Yes," I improvised, "His stage name is the Phantom of the Mat. He wears one of those half-white Phantom faces and a black cape lined with red silk. Have you ever seen him wrestle?"
Rudy looked me in the face, his red nose barely half a foot away from mine, and said, "Lady, my name's Rudy, but I don't know anyone named the Phantom of the Mat." Then he started laughing, and I almost left right then, I mean, why wouldn't he believe an honest, sincere woman who comes up to him at a bar. Was I that obvious? His jolly laughter held me there.
I replied, nervous, and in motor-mouth mode, "My name's Laura and I just opened my own candle store here in Petoskey four months ago." I did stand up to leave then, but he grasped my hand and said, "It's nice to meet you, Laura."
Okay. We went back to his apartment and he told me all about his nose and how growing up was humiliating because his brothers wouldn't let him play with them and made such fun of him, ostracized at an early age. Now he couldn't care less. I said his nose was sexy. He told me he liked the way I made up stories. I told him I'd give him a call the following week, but I never did. I see him around town from time to time. I mean, I always recognize his nose first and scurry away in the opposite direction.
* * *
A couple months after that my coworker, Sandy, set me up on a blind date with a cousin of hers from Cheboygan. His name was Elton, which struck me as kind of unusual and curious. As long as he was a single man and as long as he wasn't a dud, I could date an Elton. Somehow his name struck me as a bit snobbish, British, and I know that's a stereotype, but Elton John is British, so put two and two together. I make connections.
Anyway, Elton met me halfway between Cheboygan and Petoskey at the Douglas Lake Bar, which serves wonderful steak au poivre. He said he'd be wearing a red shirt. Once again, I grew more captivated. How did he know red was my favorite color? Sandy must've told him. My candles come in twenty different shades of red, all the way down to soft bubblegum pink. The rose candles are perennial best sellers.
Okay, so I walked into the restaurant and I saw Elton. Instant attraction. He had a short-whiskered white beard and he looked like he was about ten years older than me, and I'm only in my early thirties, honest. His hands were clasped around his belly, and it was the first thing I noticed. I knew this night had possibilities. We made small talk over an appetizer of Shrimp Louie, and I couldn't take my eyes off his red shirt and his large gut. He wasn't plump anywhere else – he had muscular forearms – but his belly, it was round like a basketball, and it jiggled on its own when he laughed at my silly observations about the other, much older, Harbor Point, upper-crust diners – this is where the moneyed crowd goes to hide from those who lost it all, pretend that the country wasn't sinking into quicksand.
Elton also had these twinkling green eyes. They exuded good cheer and fun times, and I wanted to reach out and stroke the fine white hairs of his beard, but I restrained myself. He told me he was a plant manager for Proctor and Gamble, and that he might be out of a job if the plant shut down, which was a rumor then. I don't know where he is now, probably down state, at a different plant; I didn't keep in touch with him after he took me home, which was A-Okay with me.
One night and I had my fill. I needed to distance myself again, work up to my next lover. Elton was really sweet and all but, like I said, I need to love someone from far away. Sandy asked me all about the date and I told her it was wonderful and meant it. She smiled and said she was so happy for me, but I didn't give her any details; they were personal, just between Elton and me. He had the softest, rosiest skin, and he made love like a slow smooth burner, a circle of blue flame. Sandy quit the next year thinking me too cold, too businesslike, and didn't understand why I wouldn't return her cousin's phone calls.
* * *
It's been much more than a year since Elton and my fantasy life has taken over. Here I lay, spread out on my couch, waiting. The ice in the champagne bucket melted an hour ago and it's now the middle of the night. The cookies sit untouched and I can just make out the scent of rum. I wanted St. Nick to be knocked out by them, a little tipsy and warm, some willing flesh on a cold Christmas night. After Elton I got a reputation. Men weren't interested in me anymore. Sandy and Rudy must've talked to a lot of people about me, given me a reputation as a "love 'em and leave 'em" kind of woman. I get surface chatter from the locals, small talk. I cringe whenever I pass someone who says hello to me on the street for fear they'll stop me and talk about the weather. But I do get lonely. I pined for Rudy and Elton, my few physical encounters, but I wouldn't act on my feelings; if I had, the memories would break, the beautiful fire I kept inside, unlit, those two nights of splendor, would be ripped away, torn into bitter fragments of longing.
My plan formed the closer Christmas came. I asked myself: Who is the one man who has all the physical and mental aspects that I love? Who is the only man who could keep a secret? Who would know if I was naughty or nice? It became obvious and I went out of my mind trying to find someone who would clean my chimney on such short notice. I even shoveled the snow off my roof and pointed my outdoor lights up at the sky to make landing easier.
But it's now almost two o'clock in the morning and I don't know if I just woke up from a dream or if I never went to sleep because Santa is standing across the room from me in front of my fireplace, shaking a finger at me as if to tell me, "No peeking, little one. You should be in bed." He has a face full of white whiskers, and his red suit is almost black with chimney soot, but not from my chimney; I cleaned mine.
I rub my eyes and think about the men in my life and realize he, the truest love, comes every year. All I had to do was be good. Santa unbuckles his belt, wordlessly, and lets it drop to the floor. He flings off his black boots and his red bellbottoms, leaving his silky boxer shorts. I can't believe my eyes when he shrugs off his fur-lined coat. His belly is enormous and jolly, and he rubs around his belly button. I glance at his nose and compare it to Rudy's. Santa's is more defined but redder as if he'd spent the last two months having it shined and pampered by a hundred spa elves. When my eyes meet his, they sparkle like sunlight across melting glaciers.
He walks toward me, his cheeks becoming rosier with each passing second. Then he kneels down in front of me. He looks up at me and says, "Have you been good all year?" His voice is steady and strong and I tell him, "You know everything. That's why you're here. You know what I want."
He kisses my hand and rises up to kiss my lips, scratching whiskers against my softened skin. This is what I've been waiting for. This is the end of my dreams – my body is now in tune, a tightened wire – the one true love who will leave and not feel cheated, the man who will come back every year to fulfill a bond and not fret over the separation. He'll hold me in his heart, his memories, all year long, and have one more incentive to get out of the house on December 25th and do his duty – the kind of gift that keeps on giving.
Then, right when he plants the kiss on my parted lips, Mrs. Claus's image hammers into my thoughts. She's angry, her lips form a slashing frown, and snarling sounds come from her throat. She flings her bonnet to the floor. Her white curls cascade around her shoulders and I swear I see the hair grow longer. Her wire-rim glasses fly across the small elf-built living room somewhere near the North Pole. I don't know if what I'm seeing is real or not, but I push Santa away and scoot out from underneath him.
"What's wrong my little candy cane?" Santa sinks back to his knees and his eyes plead with me.
"What will your wife think?" I say this like any soap opera star ready to jilt a previously accepted lover.
Santa stands and holds out his left hand to show me his ring finger, which has no gold wedding band. I'm about to ask him if he's hiding his vow ring inside his red jacket's buttoned pocket. My question is stopped short when Mrs. Claus's image reappears, shoving itself into my mind, she's there, terribly distraught, flying out of her house and across the arctic snow field, freezing, elves chasing her, as she runs from what is about to happen half a world away in the small Michigan home of a lonely woman, and I realize there can be true love in this world, and not the kind of true love I had always defined by chilly emotional distance. The kind of love that is unconditional. Wake up. Find it. Live it. I hear this new mantra in my head and wonder if this is his present to me.
Santa sits next to me on the couch but this time he just holds my hand and the images seep in. He's with his wife, outside their house, kneeling in the snow, arm in arm, and telling her she's the only one, and he'll never break her trust even if he has to come close to show people that love can form bonds that last forever. Two people, together all the days of the year, except one, and they are happy. I want to ask St. Nick about the charade, his undressing in my living room if only to get a merry laugh out of him, but I keep the impulse at bay.
I kiss St. Nick on the cheek and hand him his pants and say, "Thank you."
With a rejuvenated twinkle in his eyes he tells me I've received the greatest gift tonight and I want to believe him. He disappears up the chimney and the last I hear is a raucous "Ho, HO, HOOOOO," and the crack of a whip.
When I wake up Christmas morning all alone I still want to believe him.
The End
If you enjoyed Seducing Santa, please find more tales in my first book Sandcastle and Other Stories at Amazon, and thank you for reading. Means the world to me.
Justin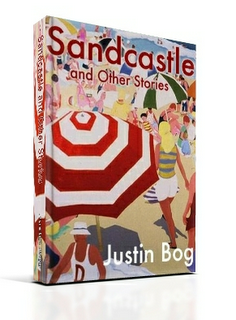 Please Subscribe or Follow A Writer's Life Blog and sign up for my newsletter to the right.
To buy or download a free sample of Sandcastle and Other Stories for kindle readers or for iPad, PC, Mac, or iPhone with the kindle app, click HERE. While at Amazon, please hit the Like button. It's a great way to show support for your favorite authors and their books. And please leave a review if the book hits you well.
Follow me on Twitter @JustinBog. Please hit the Like button on my Author Page on Facebook by clicking HERE.
Subscribe to the e-Magazine In Classic Style for tips on Travel, Dining, and Entertainment.
For Apple/Mac IT, WordPress wrangling and multimedia Publishing/Editing Services, please contact the company I use: Convenient Integration.