These three indie authors have many books out, and one has over ten. Each writer is different, writing in dissimilar genres, but closely linked in the psychology of their characters. I waited to tell everyone about them until I finished reading their work, and now they've written newer books—my night stand is happy. Talk about prolific!
Now, alphabetically by first name, since it's hard for me to choose any book or author over another . . . the curse of being a middle child, or a blessing.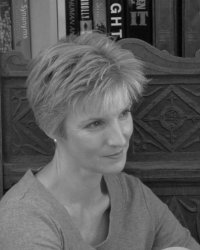 1. Gae-Lynn Woods:
Books: The Devil of Light, Avengers of Blood
Author Bio: "Gae-Lynn Woods is a Texan who has traveled the world, lived overseas, and come back home. She and her husband, British jazz guitarist Martyn Popey, share a ranch in East Texas with a herd of Black Angus cattle and one very cranky donkey.
The Devil of Light and Avengers of Blood are the first two books in the Cass Elliot Crime series. When she's not playing the roadie, tending to cows, fixing fence, or digging post holes, Gae-Lynn is working on the third Cass Elliot novel."
Gae-Lynn Woods' first crime novel, The Devil of Light, blew me away, and with the first chapter put me in a wonderful, suspenseful, vengeance-packed mystery. What makes this book so good is the writing. First and foremost, Woods takes the time to craft jewel-like sentences that shimmer across somewhat ugly, psychological waters. I fell into her language, and she is on my must-read list. One of the questions terrific indie authors are always asked is: "But, this book is so darn good, why didn't a traditional publisher pick this up?" And I love that because it means the story is good enough for everyone. The control an indie author has over every facet of their story is paramount, and I understand this. Is The Devil of Light worthy of being compared to the greats in crime fiction? Yes. A big yes.
The Devil of Light book Description: Begin with The Devil of Light before reading Avengers of Blood.
"A BIZARRE MURDER
When young Detective Cass Elliot responds to a report of domestic violence at the home of a prominent businessman, she finds him violently murdered in the barnyard with his battered wife unconscious near the tool that killed him. Still raw from her own unsolved attack six years ago, Cass is stunned when confronted with graphic photographs scattered across their kitchen floor, and she wonders if the wife might've had cause to kill her husband.
A COVERT WEB OF LIES AND EXPLOITATION
Cass and her partner Mitch Stone delve into a cunning world of blackmail and violence – and find a cult concealed for nearly a century beneath the genteel, small town façade of Arcadia in East Texas. Their investigation triggers a brutal response from powerful men who will protect their identities at any cost. They unleash a ruthless killer whose actions create a media frenzy and destroy the fabric of trust within the police department.
A PERVASIVE EVIL
Cass and Mitch circle closer to the cult's few members, following a slim lead into a night lit by fire. A night that begins with a blood ritual and ends with Cass holding a man's life – or death – in her hands and struggling to walk the fine line between vengeance and justice.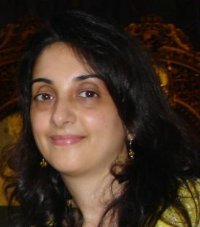 2. Maria Savva
Books: Haunted, Delusions and Dreams, and her new book simply titled 3.
Maria has over ten publications, and several collaborations and stories included in anthologies. Her prolific writing life is an inspiration. I loved Haunted, a story about secrets and people who only act like they are good while concealing huge temptations. I also loved Maria's short fiction in Delusions and Dreams. These stories are interconnected and hinge on anxious moments of stress. I cannot wait to read 3.
Author Bio: "Maria Savva lives and works in London. She studied Law at Middlesex University and The College of Law. She is a lawyer, although not currently practising law. She writes novels and short stories in different genres, including drama, psychological thriller, and family saga. Many of her books and stories are inspired by her years working as a lawyer, although she has not written a courtroom drama to date. Her most recent novel is Haunted, a crime fiction/psychological thriller, while 3 is a short collection of three tales to whet any reader's appetite. You can find out more about her work at her official website: mariasavva.com"
Haunted book description:
Nigel Price has MURDER on his mind.
He can run but he cannot hide. Nigel's past has come back to haunt him. The truth is, his past has never left him… it follows him without remorse, catching him at every turn. There is no escape.
Regret, guilt, nightmares, despair… these fill his every waking hour and disturb his sleepless nights.
Take a trip inside Nigel's mind, in this dark, psychological thriller with a paranormal twist.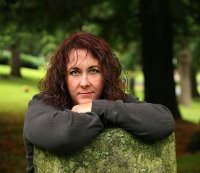 3. M.E. Franco:
Books: Where Will You Run? (The Dion Series Book 1), Where Will You Hide (The Dion Series Book 2), The Rustler's Daughter, Basement Games
Author Bio: "M. E. Franco lives in California with her husband and children. She works as a Behavior Analyst Consultant during the day and writes in her fantasy world at night. Besides writing, she enjoys reading, playing outside, music, and chocolate. See what she's up to at www.mefranco.com."
M.E. Franco's writing is key to enjoying her paranormal series of books. She also writes in the romance genre, the largest and best-selling genre. I am in a small group of people who say that the better a book is the longer it takes me to finish it. That is the case with all three of these authors. I do not rush through reading their books. I study their prose and try to figure out what is going to happen, but I never can guess. And M.E. has created a series that fits well with my love of Buffy the Vampire Slayer and the show Supernatural. If you want monsters in your fiction, M.E. delivers them. And they are the intelligent kind, the slick kind; the evil persists throughout and makes me shiver with tension. Good job, M.E. Looking forward to the third installment in your Dion Series.
Check these three indie authors out if you haven't discovered them yet. Most of the books listed here are $3.99 or less. Some are only $.99, especially the first in the series, to get you hooked, and that's a good thing in my book. These authors will keep you hooked. Add them all to your must-read list, and let me know what you think after you're read a chapter or two . . .
ever,
Justin
Please Subscribe or Follow A Writer's Life Blog and sign up for my newsletter to the right. For signed copies, please hit the link to the right.
To buy the Green Darner Press paperback or download a free sample of Sandcastle and Other Stories or The Conversationalist for kindle readers or for iPad, PC, Mac, or iPhone with the kindle app, click HERE. While at Amazon, Barnes & Noble, the iBookstore, or Kobo, please hit the Like button. It's a great way to show support for your favorite authors and their books. And please leave a review if the book hits you well.
Follow me on Twitter @JustinBog. Please hit the Like button on my Author Page on Facebook by clicking HERE.
Subscribe to the e-Magazine In Classic Style for tips on Travel, Dining, and Entertainment.
For Apple/Mac IT, WordPress wrangling and multimedia Publishing/Editing Services, please contact the company I use: Convenient Integration.