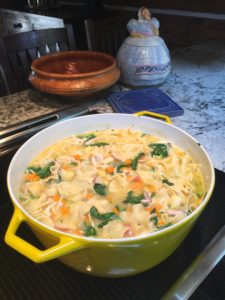 So, I drove back from a week in my old home stomping grounds, Sun Valley, Idaho, through smoke and fire-devastated hills, and all I could think of was rain. A huge wind and rain storm blew in from these wishes, multiple, driven, a blessing. A group of firefighters grabbed hands and jumped into the air for a photo moment (google this)! Summer, here at the end of August, storms like this are an aberration . . . 70 mph gusts near Oak Harbor and the naval station, power out still, three days later, up and down the coastline from Vancouver to Seattle. Sounds like a Pacific nor'wester, right? Batten down the hatches calls that usually don't ring out until early November, some dripping and scattering leaves in October, but for late August? A necessity, I'd say.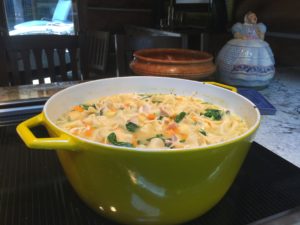 And, chicken noodle soup with spinach filled my mind. A huge pot filled with vegetables and nutrients, but made in an Asian style since I prefer hot-n-sour soup flavors. I barely followed the recipe given since chicken soup is in my memory banks. Here's what I did if you wish to follow me into the kitchen.
Take all the meat from a rotisserie chicken and shred it . . . discard skin and bones unless you want to make your own chicken stock (which I recommend whenever possible).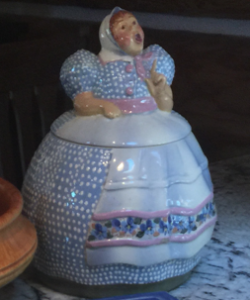 Peel and dice three good-size carrots (farmer's market a plus), two parsnips, and one medium-large onion . . . cook in three Tbl. olive oil on medium-high heat for four minutes. I use a huge mustard-colored, heavy, pot given to me by someone who severed her bicep muscle and couldn't lift the pot anymore, a good friend. She's doing well now! I added about eight small potatoes cut into cubes . . . after four minutes I added some garlic (three crushed bulbs), fresh chopped thyme (about 2 teaspoons), a good pinch of celery salt. (If you like celery, dice up three ribs instead), and a good amount of crushed lemon grass. If you use the un-crushed lemon grass, just twist it to release flavor before adding this to the pot (I remove them afterwards since they're hard to eat). Cook for two more minutes, stirring constantly. The bottom of your pot will brown but not to fear, add a 1/2 cup of dry white wine and scrape this browned vegetable goodness into the vegetables with a wooden spoon—the alcohol will evaporate quickly. Add four quarts of good chicken stock and bring to a boil. Stir. Turn down to a simmer and add wide egg noodles, cover partially. (I used 12 oz. instead of 8 oz. of noodles.) These soak up a lot of the broth. Cook for ten/fifteen minutes. Add fish sauce, just enough for your taste. Add white wine vinegar. I tend to add a lot of this. Add the juice of one or two limes to your taste. Add four cups, packed tightly, baby spinach. I almost add five cups. So good for you. And, finally, add the shredded chicken at this point. (fresh chopped cilantro is optional) Salt and pepper to your taste. As soon as you like at this point, with all ingredients warmed through, grab a bowl and a couple pieces of crusty bread and chow.
Enjoy your own meals . . . hope the power didn't go out for too long.
ever,
Justin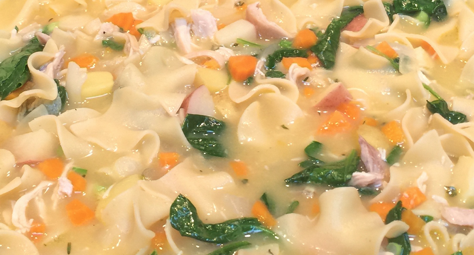 p.s. if you've read any of my books, and feel inclined, please think about leaving a review on Goodreads.com or at Amazon. This helps authors so much, especially those authors without a huge marketing machine behind them.

If you enjoyed this post, please subscribe to my blog and sign up for my newsletter (to the right), and Follow me on Twitter or Facebook!
Lastly, for Apple/Mac IT, WordPress wrangling and multimedia Publishing/Editing Services, please contact the company that I use: Convenient Integration.