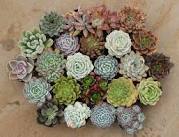 This brilliant week, the first of the Fall season, began with some incredible energy and events. But I hold secrets dear, and will only be revealing them within the tale as they progress. A Play Demonic (The Queen's Idle Fancy) is showcasing Thanksgiving in this episode, a continuation of last week's scene, and there may be one or two more chapters in the Belloon home before the narrative jumps to Roger and how he's enjoying the holiday. In a weekly serial I love the fact that I can take time and let a scene play out. Enjoy the tension between the characters, and please let me know what you think after reading this section. Always a pleasure to hear from you. In honor of Carole's love of succulents, I am placing a photo here for everyone. Get into the perfectly set Thanksgiving table.
"Possession's so boring, a parlor trick. We are all demonic!"—QUEEN STORMAG
So, as always, here is another painting finished within the last two years of my father's life in an assisted living home. The eagle is in reference to Carole's fearful thoughts that she's being hunted, a rabbit hiding in plain sight as the eagle soars above her. Check out my father's and my mother's art at www.bogdanovitch.com.
To read A Play Demonic (The Queen's Idle Fancy) from the very beginning, simply click HERE to read Part 1. To refresh your memory from the last chapter, simply click HERE to read Part 18!
*
A Play Demonic (The Queen's Idle Fancy) — Part 19
by
Justin Bog
*
The doorbell rang at three. Prompt as ever, never fashionably late or irritatingly early, Mack and Ivy with their children stood on the front porch, father and son in formal suits, ties, chic dresses on both mother and daughter (not too revealing—almost churchgoing, Carole thought. Don't they go to Christ The King every Sunday?). A woman with a dour expression, maybe a natural state, lips downturned, stood behind them. She was only a little bit taller than the two kids in her charge.
The rain had stopped earlier in the day, and a bit of sunshine was poking through the lessening cloud cover. A crisp chill was forecast for the next week, and that meant temperatures approaching freezing, maybe even a snowfall. The area received one giant winter storm each year, two if the residents were lucky.
"This is for you," Mack said to Carole and Martin. He held out a wrapped rectangular box, the green paper dark like fir, a sparkling bronze ribbon tied around the gift. "Not from us. It was on your stoop when we arrived. We brought the wine!"
"And it's getting awfully heavy," Ivy said. She carried a brown bag in both arms.
"Worth the sacrifice, Honey. Two bottles of the best Pinot Noir, and two of the Chardonnay Ivy can't seem to live without."
"Come in, come in," Carole said, brightening her expression after being nudged in the back by Martin. She took the gift box and noticed a small card attached, the size of a florist's greeting, in an envelope. "How mysterious!"
She gave Ivy an air kiss.
"Kids?" Mack said with theatrical sternness.
"Hello and Happy Thanksgiving Mr. and Mrs. Belloon!" Both Chelsea and Parker chanted this at the same time, sing-song, and smiled at Martin and Carole.
"Happy Thanksgiving to you both. My that's a pretty dress, Chelsea," Martin said.
"And you look quite handsome, Parker," Carole added. "Our home is your home."
"Don't give them that much leeway," Mack said. "Most of the time they'll be into something mischievous before you know it. Kids. Remember what we talked about?"
"Be good."
"Be thankful." Both kids raced into the house, gravitating to the room where the television was on playing the football game. The sound of football changed to laughter and then canned, tinny, cartoon shrieking echoed forth.
"I told them they could finish watching the parade. Sorry," Ivy said. She certainly didn't sound apologetic. She didn't make eye contact with her hosts. "Theresa, would you please keep an eye on them and warn both that the adults may be in shortly to watch the football game. No talking back either."
"Yes, Mrs. Ivy. Happy Thanksgiving and thank you for including me. It smells wonderful in your home."
"You're very welcome," Carole said. "I only hope it's as delicious. Let me take your coats."
With the box almost forgotten in her hands, Carole gathered the coats and Ivy's purse and took them to the guest bedroom off the living room where she deposited everything on the bed. The box felt light. A box of feathers, Carole thought. More bird imagery flew into her head. She took the card out of the envelope and read the printed words. The script was fine, distinctive, beautifully wrought cursive.
Open after grace when all penitents participate—the thankful will be chosen—a gift given!
The doorbell rang again, and she heard Peggy yell, "I've got it!"
Carole stared at the note and the box shook in her hands, just a jiggle, something shuffling within, alive, and a feeling of revulsion speared into her thoughts. This made Carole almost drop the box to the floor, and she instantly thought of Martin, what he would do to her later when all company had departed and the house closed silent . . . Peggy would be oblivious in her far bedroom listening to alternative rock with earbuds blocking the sound of her father's corrections.
"Hi. We're The Byrnes. I'm Gabby, and this is my husband, Cary, and our little angel, Fergus. We're so pleased to be here for the holiday. Thank you for having us." The woman's endless greeting went on too long. Everything Gabby said went on too long. Carole gripped the box tightly and counted down from ten within her mind, hoping to straighten her spiraling thoughts.
"I'm Peggy, Martin's daughter. I'm just visiting."
"Oh? From where?"
"Santa Barbara."
"Lucky you. That's such a beautiful place. Remember, Cary? Our second honeymoon? That's where we spent the most lovely week." Each year of Gabby and Cary's marriage they spent a week's vacation someplace new, right around their wedding anniversary and called them honeymoons with a number. They'd had eleven honeymoons so far, and Carole had heard this story before. Maybe if I just sit here . . . they'll wonder. No. Martin would find me, pull me into the kitchen, and tell me to get going. Just you wait.
"Well. It has its ups and downs. Every place does if you live there for any length of time."
"Ain't that the truth," Gabby replied. She then winked, another actress being dramatic. "Now, where's your father and . . . ha, I almost said stepmother, like in evil," and Gabby's tinkly laugh filled the foyer. She shouted: "Carole? Where are you hiding?"
I am hiding, Carole thought. A rabbit hunkered down in plain sight. An eagle soars above, he spots my shivering cotton-ball  tail from far above in the clear blue sky. That's what I am. Hunted.
"Welcome, welcome," Martin bellowed out. "Just getting drinks for Ivy and Mack. What can I do for you? Champagne? Whiskey? Peggy, would you please take their coats to the guest bedroom. Your not very evil stepmother's probably taking a moment to collect herself in there after all the hard work she's put in today." Peggy did what her father asked and the party moved into the living room where a small bar filled with sparkling glasses and whiskey, vodka, and gin, glittered. Fergus joined the other two kids in the television room. Not once did a smile cross his face. He held onto his iPad, the latest edition, and he planned on playing his games throughout the day. The other kids didn't have to ruin his Thanksgiving.
When Peggy entered the guest bedroom and found Carole there holding a small wrapped box with both hands, fingers tightened as if the box was about to take flight, she gave out a surprised, "Oh!"
"I'm sorry, Peggy. Don't know what's come over me."
"You're working too hard. Do you want help with the table setting?"
"That's kind of you, but it's almost finished. I just have to place the centerpiece."
"What's that?" Peggy pointed to the box.
"I don't know. Someone left it on our porch."
"That's nice."
"We're supposed to open it after your father says grace."
"Can't wait. Are there more guests coming?"
"No. I believe everyone's here."
"That's a relief, I'm sure, for you that is. Hope dad doesn't expect me to entertain them. That lady who just came in sounds like she could outtalk an auctioneer."
Carole laughed. This made Peggy laugh.
"I totally understand."
"These are father's friends, right? I get it."
"Please don't say anything to your father in that direction. They're my friends too."
"But not close friends. No worries, Carole. I may help you out in the kitchen just so I can take a breather."
"Let's join the party then," Carole said. She felt light inside, happy that her stepdaughter, for once, was treating her like they had a secret. This was something unforeseen. No matter what she did in the past, she'd always be this other woman, this interloper now married to Peggy's father. Be kind, always. Just be kind. That was what her own mother had told her, unasked for advice, and she'd somehow stuck to this, failing in a heated moment, thinking Peggy ungrateful recently. Where did that come from? That kind of thought was also new. She didn't love her changing thoughts.
Peggy and Carole walked into the living room and greetings and air kisses happened once more. All three children were hypnotized by an animated movie (Fergus putting his iPad aside only because he picked The Incredibles and related to the villain's journey), and Carole excused herself to finish with preparations for the Thanksgiving meal. Across the center of the large dining room table, she placed candles, a low flower arrangement, and succulents in pots; she'd grown fond of the spiky fronds, their beauty in design. Everything glowed with warmth and inviting kindness. She placed the gift box at the head of the table to the side of Martin's carving knife.
*
To read the next chapter of A Play Demonic (The Queen's Idle Fancy), simply click HERE to find Part 20!
*
Happy day to you and happy reading . . . choose good, suspenseful stories, and tell someone to read a story, recommend good books, spread the word.
ever,
Justin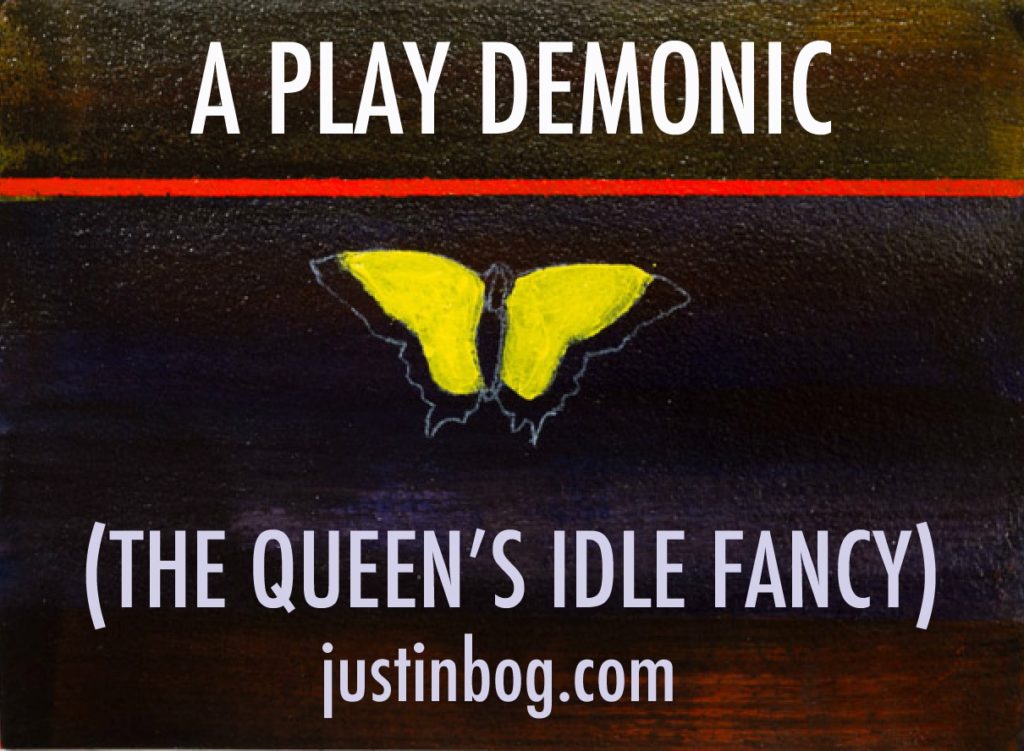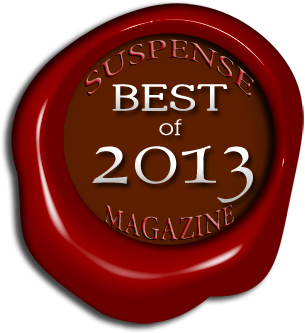 If you enjoyed this post, please subscribe to my blog and sign up for my newsletter (to the right), and Follow me on Twitter or Facebook!
Please visit the Buy Justin Bog Books page above to learn more about my stories. If you do end up taking a chance and read one of my books, and, if you feel so inclined after finishing any author's hard work, please write a review. It helps so much.
Subscribe to In Classic Style e-Magazine for tips on Travel, Dining and Entertainment.
Lastly, for Apple/Mac IT, WordPress wrangling and multimedia Publishing/Editing Services, please contact the company that I use: Convenient Integration.