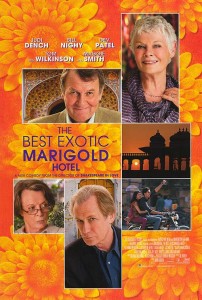 In The Best Exotic Marigold Hotel British retirees travel to India to take up residence in what they believe is a newly restored hotel. Less luxurious than its advertisements, the Marigold Hotel nevertheless slowly begins to charm in unexpected ways. This summer's sleeper hit film. Don't miss it.
Jean: As long as such a fall happens to occur right next to the panic button. (Her response to someone trying to sell her on a new assisted living apartment.)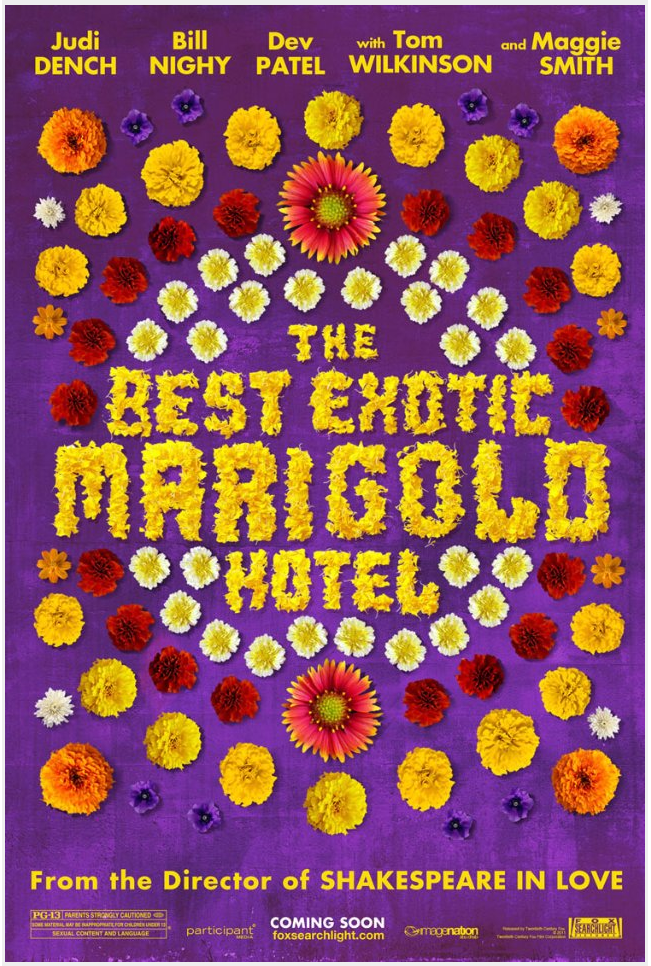 Now that the heat of summer is registering high in many parts of the world, I always enjoy a good matinee out at the movies in a cooler place. I must admit that the San Juan Islands temperatures have rarely gone over 70 yet, but July will kick in soon enough and the lakes will warm up for swimming. So, my friends and I decided to go see Snow White and The Huntsman, made plans to meet one afternoon, and I drove down, walking into the Anacortes, Washington theater with a minute to spare — Had I got the movie time wrong? No, I got the film wrong. I watched as my movie buddies passed the theater for Snow White and The Huntsman, and disappeared around the corner. I held the ticket for Snow White and The Huntsman in my hand; I did not have high hopes for this fairytale flick based on a scathing review from one of the movie critics I trust, but I love seeing all films, even the less than bright ones, if only to see what I would have changed — is this flick worth saving? I'll never know because I followed my friends and also walked past Snow White and headed for the door marked The Best Exotic Marigold Hotel. There, seated for the previews, my friends explained that they changed their minds and had left me a message – they knew I'd find them; it's the way we roll here – island time.
I knew very little about The Best Exotic Marigold Hotel beyond what the press releases showed, and very few art films or smaller movies, independent films, make their way through the hordes of big Hollywood bruiser films on our island come summertime; I usually have to travel off-island to see independent films. Last summer, Woody Allen's Midnight In Paris became the small movie that bested many of Hollywood's expensive blockbusters — wait, who paid money to see Green Lantern? Week after week, Midnight In Paris played in theaters throughout the summer, a rarity for any film, and The Best Exotic Marigold Hotel appears to be this summer's rare treat, and I predict it will duplicate this feat. I also expect to see it again so that I can share its joy, warmth, compassion, and laughter anew.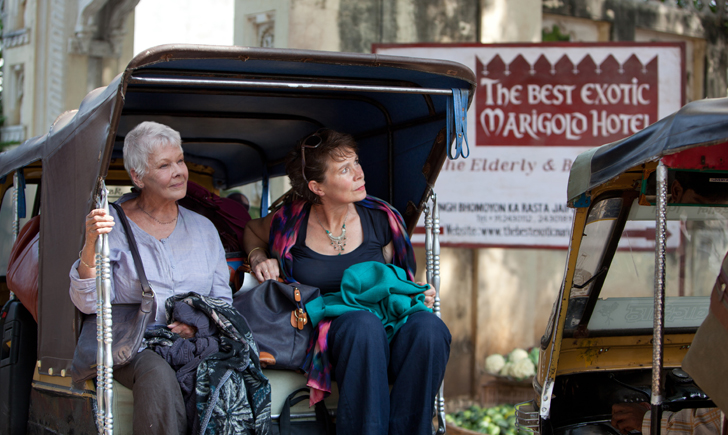 Orderly: My wife is from Mumbai.
Muriel: Well don't blame me, you married her!
John Madden directs the film with his usual dramatic and comedic timing intact from his career high film, Shakespeare In Love. Ol Parker wrote the screenplay based on Deborah Moggach's novel, These Foolish Things. The cast is made up of theater and film greats: Judi Dench, Tom Wilkinson, Bill Nighy, Penelope Wilson, Dev Patel, and Maggie Smith, playing a character who is hard to like, and going for every line read without a care about that — a rich and fortuitous role for her to play.
Evelyn: Nothing here has worked out quite as I expected.
Muriel: Most things don't. But sometimes what happens instead is the good stuff.
The characters, all retirees, are introduced singly, we know very little about each person, just what may draw them to pack up and move to a retirement home in India that is promoted as top notch. They arrive in the heat, and what they find is a Best Exotic Marigold Hotel that has hit the skids. They also find Dev Patel, the lead in Slumdog Millionaire, bursting with joy, who checks them in, and expounds on the greatness of the place. His vision and irrepressible drive can only take him so far, but he convinces the group to not turn around and leave. The sights, sounds, and yes, even the smells of India, the crush of life, the people with journeys to take every single day, the animals, the hopes, dreams, heartaches, are there to find in the film. I loved every colorful frame.
What films are you seeing on the big screen this summer? Best to you and enjoy your entertainment choices, Justin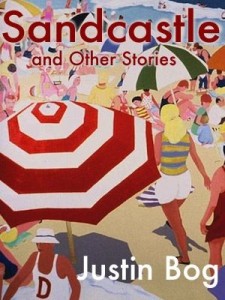 Please Subscribe or Follow A Writer's Life Blog and sign up for my newsletter to the right.
To buy or download a free sample of Sandcastle and Other Stories for kindle readers or for iPad, PC, Mac, or iPhone with the kindle app, click on the book cover to the right. While at Amazon, please hit the Like button. It's a great way to show support for your favorite authors and their books. And please leave a review if the book hits you well.
Follow me on Twitter @JustinBog. Please hit the Like button on my Author Page on Facebook by clicking HERE.
Subscribe to the e-Magazine In Classic Style for tips on Travel, Dining, and Entertainment.
For Apple/Mac IT, WordPress wrangling and multimedia Publishing/Editing Services, please contact the company I use: Convenient Integration.