It's time for another great summer read, but first here's Zippy crossing his own bridge to Treasure Island.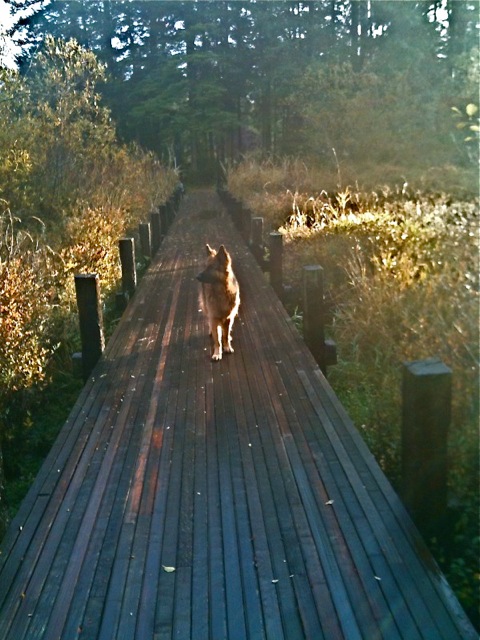 The Forgotten Garden by Kate Morton
In the past two weeks I read six of John Sandford's Prey novels, and travelled every step of the way into the dark corners with his main character, Lucas Davenport, from Hidden Prey to Storm Prey. In Hidden Prey, a book that was published back in 2004, he describes a girl with a dragon tattoo, and the plot involves soviet sleeper agents hiding out in farmland USA, and made me wonder, hmmm, an interesting coincidence with the phenomenal Millenium Trilogy and another girl with a dragon tattoo. Sandford's written over 20 books in the series – start with Rules of Prey – and I needed to get his villains, and their depravity out of my system so I picked up Kate Morton's second novel and fell back in time…now, I can't wait to read Kate Morton's new book The Distant Hours.
Kate Morton wrote The House at Riverton first and looked to childhood tales for inspiration for her superb sophomore effort, The Forgotten Garden. Both novels and her latest, are worth reading, and in the case of The Forgotten Garden, rereading. Childhood tales in which children escape from the adult world to a place in which their imagination is allowed free rein – and how fragile a person's sense of self is – is the beating pulse behind the narrative. Covering generations, the author stops to contemplate children, orphans, playing Jack the Ripper games in London's fog, a dark and dreary trip by horse-drawn carriage to a windy seacliff manor house, where a family begins to weave secrets into the very fabric of the estate, and a forbidden maze leading to a neglected cottage. Fairy tales, a terrible nastiness combined with human frailty, figure into the story, and one of the characters, an authoress, doesn't soften her own tales, which are essential to the novel's structure, and fun to read throughout.
In the novel's opening a tiny girl is abandoned on a ship headed for Australia in 1913 – in her small suitcase is a beautifully illustrated volume of fairy tales, a very rare edition. She is taken in by the dockmaster and his wife and raised as their own – as in a fairy tale, on her 21st birthday, they tell her, Nell, the truth, as much as they could gather. Nell sets out on a journey to learn about her past, which leads her to a forgotten garden hidden on the grounds of Blackhurst Manor on the Cornish coast and the terrible secrets of the Mountrachet family.
Morton channeled a bit of Dickens and a lot of Austen to write such an entertaining, thoughtful, tragic, painterly novel. The novel interweaves the three generations in Nell's family tree, all leading up to a corker of a twist at the end. Impeccably written, The Forgotten Garden will surely satisfy your book lust!
The little girl laughed again; the boat was gliding through the water like a giant whale, like Moby Dick in the story her father often read to her. Mamma didn't like it when he read such stories. She said they were too frightening and would put ideas in her head that couldn't be got out. Papa always gave Mamma a kiss on the forehead when she said that sort of thing, told her she was right and that he'd be more careful in the future. But he still told the little girl stories of the great whale. And others – the ones that were the little girl's favorite, from the fairy-tale book, about eyeless crones, and orphaned maidens, and long journeys across the sea. He just made sure that Mamma didn't know, that it remained their secret.
The little girl understood they had to have secrets from Mamma. Mamma wasn't well, had been sickly since before the little girl was born. Grandmamma was always bidding her to be good, warning her that if Mamma were to get upset something terrible might happen and it would be all her fault. The little girl loved her mother and didn't want to make her sad, didn't want something terrible to happen, so she kept things secret. Like the fairy stories, and playing near the maze, and the times Papa had taken her to visit the Authoress in the cottage on the far side of the estate.
"Aha!" A voice by her ear. "Found you!" The barrel was heaved aside and the little girl squinted up into the sun. Blinked until the owner of the voice moved to block the light. It was a big boy, eight or nine, she guessed.
"You're not Sally," he said.
The little girl shook her head.
"Who are you?"
She wasn't meant to tell anybody her name. It was a game they were playing, she and the lady.
"Well?"
"It's a secret."
— excerpt from The Forgotten Garden by Kate Morton
Also check out the new online Travel and Leisure magazine with Concierge Services: In Classic Style for more reviews of where to vacation, travel, dine and spend your leisure time.
Please subscribe to a writer's life & Follow me on Twitter @JustinBog.