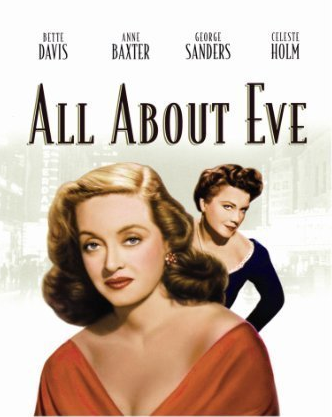 Margo Channing: Fasten your seatbelts, it's going to be a bumpy night!
Margo Channing: I detest cheap sentiment.
I always say that "All About Eve" is one of my favorite films. The backstory is priceless. A feud of longstanding, and highlighted by a radio comedy show featuring Tallulah Bankhead, makes watching "All About Eve" richer. Anyone who wants to be a writer, of novels or screenplays, should study Joseph L. Mankiewicz's film. The plot has been aped by many other pictures over the years, even "Showgirls" owes a debt to this flick.
Addison DeWitt: You're maudlin and full of self-pity. You're magnificent!
Please click this underlined link to listen to the radio show where Tallulah is riffing on the great Bette Davis. Very funny.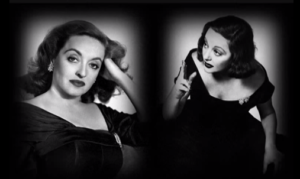 "All About Eve" plot-line: An ingenue insinuates herself in to the company of an established but aging stage actress and her circle of theater friends. Aspiring actress Eve Harrington maneuvers her way into the lives of Broadway star Margo Channing, playwright Lloyd Richards and director Bill Sampson. This classic story of ambition and betrayal has become part of American folklore. Bette Davis claims to have based her character on the persona of film actress Talullah Bankhead. Davis' line "Fasten your seatbelts, it's going to be a bumpy night" is legendary, but, in fact, all of the film's dialog sparkles with equal brilliance. Written by Jeanne Baker <jbaker@erim.org>
A film of its time, "All About Eve" studies characters in natural, seemingly effortless, interactions. Captured on page first, a story of a time when Broadway actresses still reigned as queens, the witty writing of Joseph L. Mankiewicz is key to the success of the picture. It starred many name actors: Bette Davis, Anne Baxter, George Sanders, Marilyn Monroe (in an early role), Celeste Holm, Gary Merrill, and Thelma Ritter in an unforgettable supporting role.
The silliest and funniest version of the famous Snake Bite joke is worth repeated viewing as well. Please enjoy by clicking the underlined link: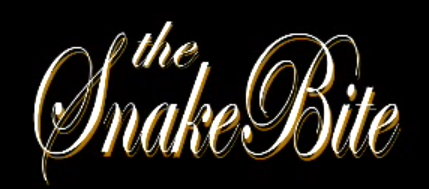 And let me know what you think about "All About Eve." What are your favorite film classics?
ever,
Justin
Addison DeWitt: What do you take me for?
Eve Harrington: I don't know that I'd take you for anything.
Addison DeWitt: Is it possible, even conceivable, that you've confused me with that gang of backward children you play tricks on, that you have the same contempt for me as you have for them?
Eve Harrington: I'm sure you mean something by that, Addison, but I don't know what?
Addison DeWitt: Look closely, Eve. It's time you did. I am Addison DeWitt. I am nobody's fool, least of all yours.
Eve Harrington: I never intended you to be.
Addison DeWitt: Yes you did, and you still do.
Eve Harrington: I still don't know what you're getting at, but right now I want to take my nap. It's important…
Addison DeWitt: It's important right now that we talk, killer to killer.
Eve Harrington: Champion to champion.
Addison DeWitt: Not with me, you're no champion. You're stepping way up in class.
Eve Harrington: Addison, will you please say what you have to say, plainly and distinctly, and then get out, so I can take my nap?
Addison DeWitt: Very well – plainly and distinctly – though I consider it unnecessary because you know as well as I do what I'm going to say: Lloyd may leave Karen, but he will not leave Karen for you.
Eve Harrington: What do you mean by that?
Addison DeWitt: More plainly and more distinctly: I have not come to New Haven to see the play, discuss your dreams, or pull the ivy from the walls of Yale. I have come here to tell you that you will not marry Lloyd, or anyone else for that matter, because I will not permit it.
Eve Harrington: What have you got to do with it?
Addison DeWitt: Everything, because after tonight, you will belong to me.
Eve Harrington: Belong? To you? I can't believe my ears!
Addison DeWitt: What a dull cliché.
Eve Harrington: Belong to you – why, that sounds medieval, something out of an old melodrama!
Addison DeWitt: So does the history of the world for the past twenty years. I don't enjoy putting it as bluntly as this. Frankly, I'd hoped that somehow you would have known, that you would have taken it for granted that you and I…
Eve Harrington: Taken it for granted that you and I…
[laughs]
Addison DeWitt: [slaps her] Now, remember, as long as you live, never to laugh at me – at anything or anyone else, but never at me.
Eve Harrington: [walks to the door and opens it] Get out!
Addison DeWitt: You're too short for that gesture. Besides, it went out with Mrs. Fiske.
Please Subscribe or Follow A Writer's Life Blog and sign up for my newsletter to the right. For signed copies, please hit the link to the right.
To buy the Green Darner Press paperback or download a free sample of Sandcastle and Other Stories or The Conversationalist for kindle readers or for iPad, PC, Mac, or iPhone with the kindle app, click HERE. While at Amazon, Barnes & Noble, the iBookstore, please hit the Like button. It's a great way to show support for your favorite authors and their books. And please leave a review if the book hits you well.
Follow me on Twitter @JustinBog. Please hit the Like button on my Author Page on Facebook by clicking HERE.
Subscribe to the e-Magazine In Classic Style for tips on Travel, Dining, and Entertainment.
For Apple/Mac IT, WordPress wrangling and multimedia Publishing/Editing Services, please contact the company I use: Convenient Integration.