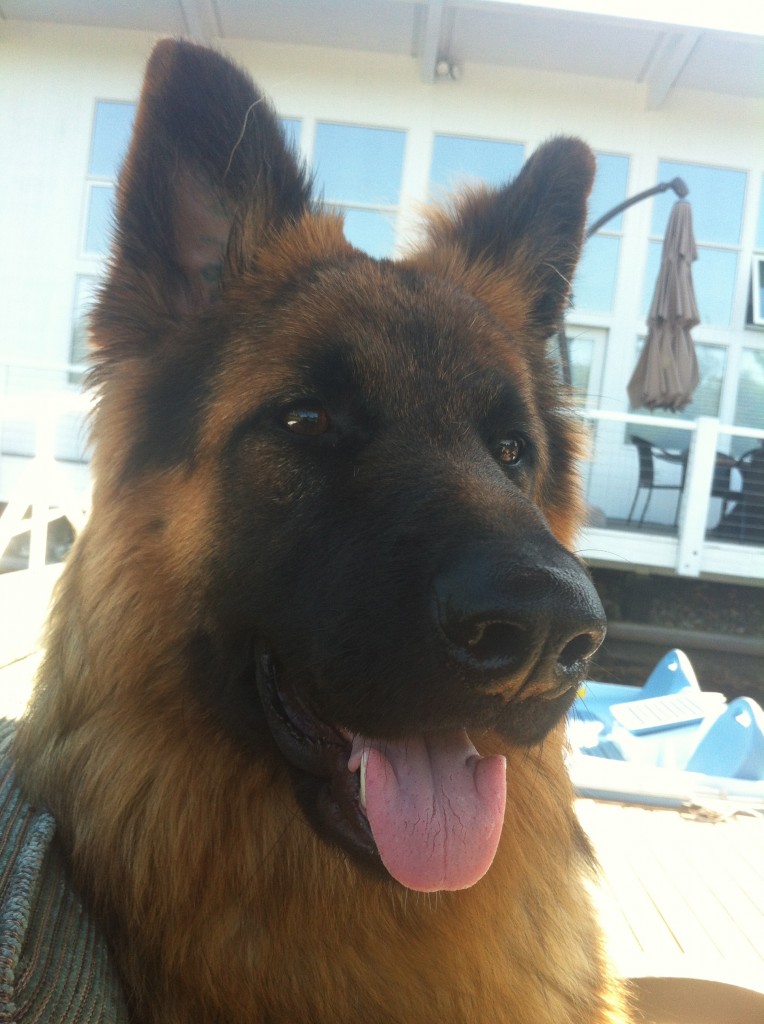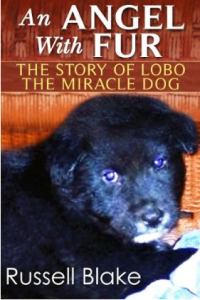 Russell Blake started his online Pet Wall to honor his own wondrous dog, Lobo. The book (hit the title to see the book at Amazon), An Angel With Fur, came pouring out as the story of how Lobo adopted Russell, which began one fine day while visiting an animal shelter in Mexico. If you have ever loved a pet, and most of us have, I guarantee the story will lift and then break your heart in equal measure. The honest, raw, naturalistic writing of Russell Blake brought me right into Lobo's story; the book shows Lobo as an equally strong influence on someone who had never imagined how taking care of a pet could be a life-changing event. Blake captures and puts this moment, and much more, on ePaper.
Zippy's shot at stardom began with a spot on Lobo's Pet Wall. Please go to Russell's website and check out all the stories about pets and their owners. There's even a snake named Fluffy! Russell Blake is also a phenomenal and prolific thriller writer. In the last two years alone, he has published over fifteen novels in that genre. Blake's latest thriller, Silver Justice, begins in a fearful spot. I cannot recommend Russell Blake's books more: check them out.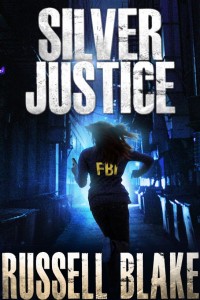 A little over six years ago now, while caring for my two senior mutts, Myrtle and Lucille, I spotted a long-haired German Shepherd at the vets and couldn't stop thinking about how regal and bear-like the breed is. I went home, researched, and found Tracy's website online. Tracy Bullinger's been breeding top show and police/guard German Shepherds for going on three decades. Her compound was only an hour away from my San Juan Island home across the border in Canada. My partner and I adopted Zippy and he was skillfully trained to be calm and present by Myrtle and Lucille for the next two years before they passed on. He now herds our two cats Ajax the Gray and Eartha Kitt'n, who, possibly in cahoots with Lyda Blue Heron, annoy him to no end. Zippy hung up his collar and retired as the unofficial Anacortes Seahawks High School tennis team mascot; he had a good run there of seven years of cheering. The kids thought of him as part bear too. Zippy hates clowns and is teaching Kipling to always be on alert for the scent of face paint. Sometimes Zippy even shows Kipling his collection: he steals the clown noses, and then runs far away. Zippy loves children, deep massages, organic food, Vivaldi concertos, and long walks in the park.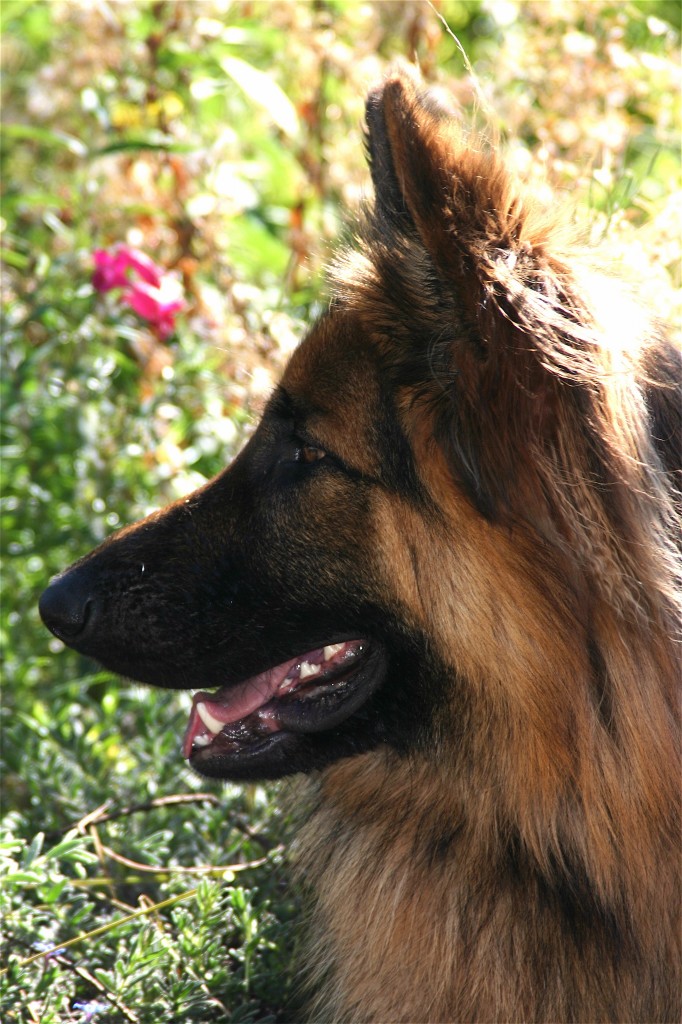 Isn't Zippy a handsome lad? The powers that be decided Zippy needed a mate to run around with, and we drove back to see a batch of puppies last fall at the breeders outside Vancouver. Yes, our dogs are Canadian long coat German Shepherds. Kipling came into being. She bonded with the family with gusto (see too many photos over the past year on this blog) . . . Kipling now wrestles with Zippy at every opportunity. I waited a bit before sending her photo to Russell for Lobo's Pet Wall approval so that all of her coloring was out. Here she is swimming after retrieving a tennis ball. Who says German shepherds can't be retrievers?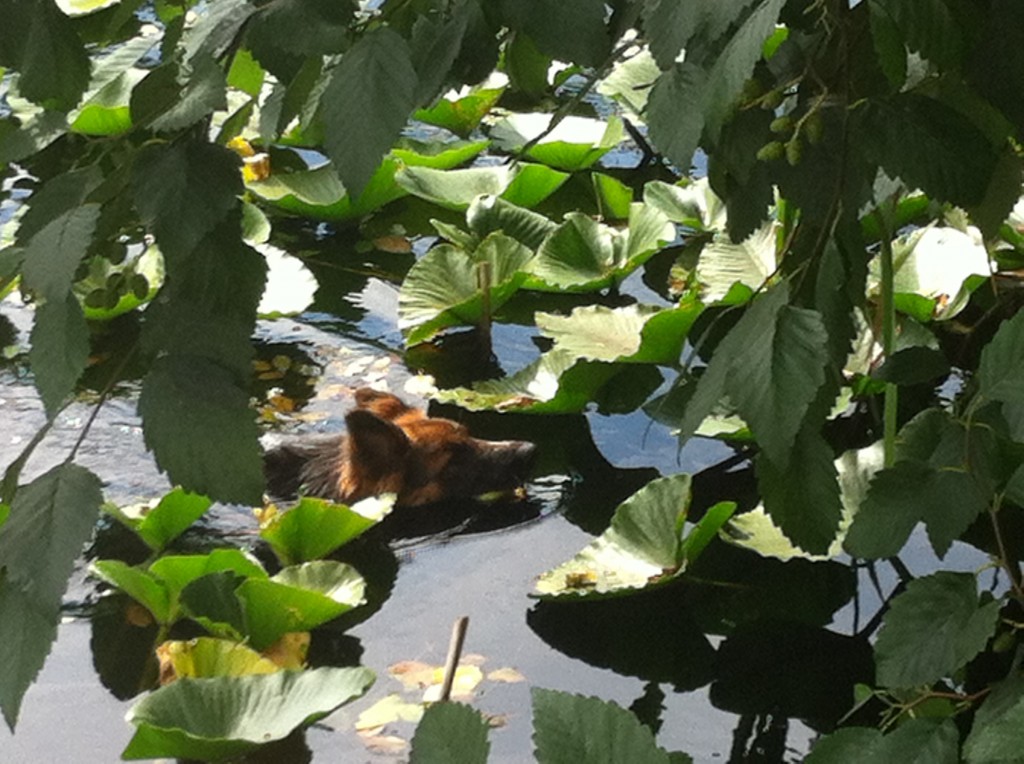 There are too many photos to share, and I only want to bore you for a bit longer so please bear with me. The dogs are constant companions. Playful. Kipling makes sure Zippy doesn't sit around much. They are a great pair.
At the dog park with a favorite keep-away toy. They play tug of war and Zippy always allows Kipling to win.
I hope your own animals give you the time of day. Zippy and Kipling work for food if you need a couple herders this season.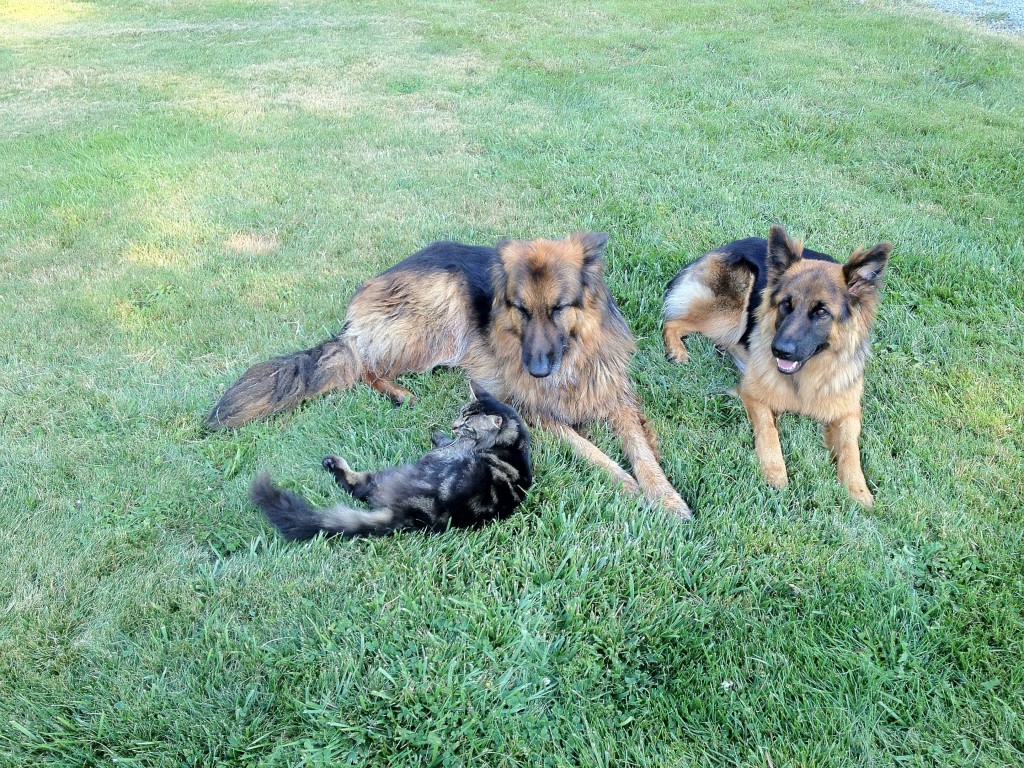 No one loves to be pawed and licked to soaked status more than Eartha Kitt'n. Zippy is a protector and makes sure Kipling behaves.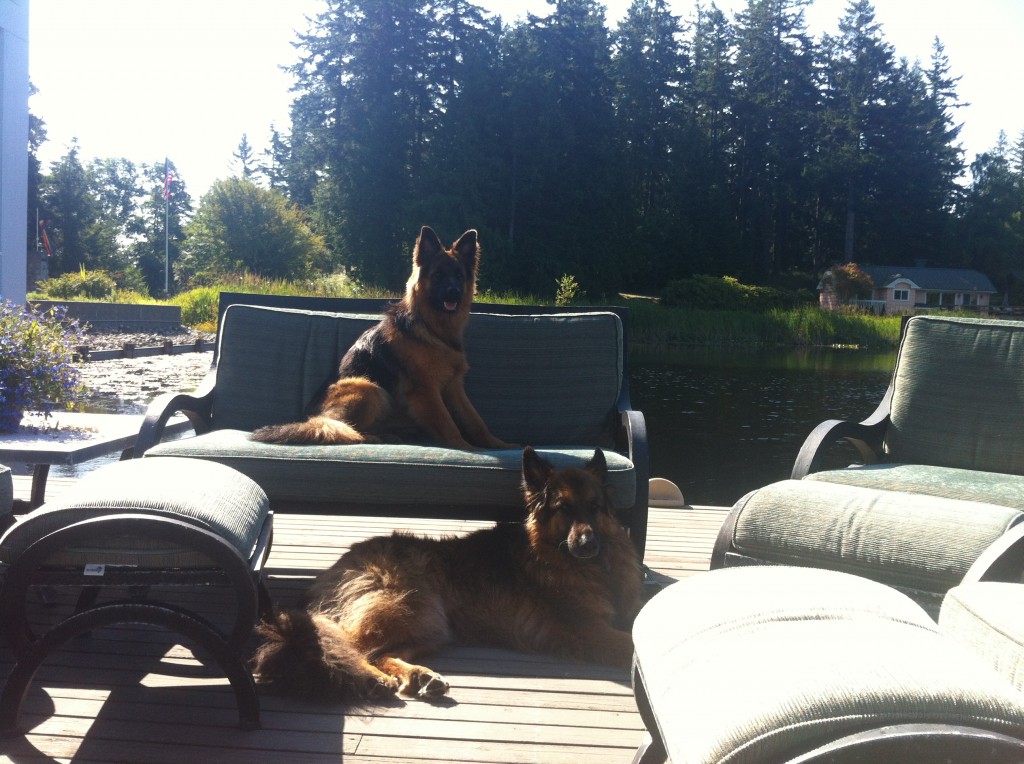 And finally, the last shot of them for this post: Zippy and Kipling ready to swim after a hot day chasing cats.
Take care,
Justin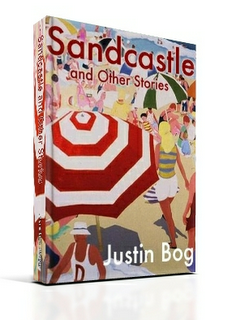 Please Subscribe or Follow A Writer's Life Blog and sign up for my newsletter to the right.
To buy or download a free sample of Sandcastle and Other Stories for kindle readers or for iPad, PC, Mac, or iPhone with the kindle app, click HERE. While at Amazon, please hit the Like button. It's a great way to show support for your favorite authors and their books. And please leave a review if the book hits you well.
Follow me on Twitter @JustinBog. Please hit the Like button on my Author Page on Facebook by clicking HERE.
Subscribe to the e-Magazine In Classic Style for tips on Travel, Dining, and Entertainment.
For Apple/Mac IT, WordPress wrangling and multimedia Publishing/Editing Services, please contact the company I use: Convenient Integration.