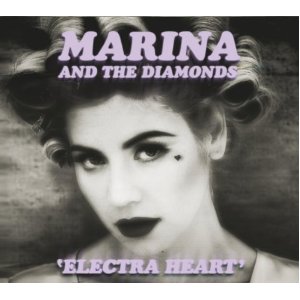 Primadonna girl, yeah
All I ever wanted was the world
I can't help that I need it all
The primadonna life, the rise and fall
You say that I'm kinda difficult
But it's always someone else's fault
Got you wrapped around my finger, babe
You can count on me to misbehave
— from Primadonna
I always have a Summer music favorite. The song or album that hits my ears and makes me smile, replay time after time. Marina and the Diamonds just released their second album, Electra Heart, and the Deluxe Version comes with a couple videos as a bonus. I thoroughly enjoyed The Family Jewels, the first album Marina and the Diamonds released amongst a sea of other incredible women in the pop, dance or alternative genres — Robyn, Little Boots, Kerli, Katy Perry, Gwen Stefani, La Roux, Adele, Florence + The Machine.
The first song on the album, Bubblegum Bitch, sounds like a single Gwen Stefani should have recorded. A creed filled with inner strength, and that's what the songs on this album showcase: characters, women who are strong and will not dally with men who are not savvy enough. Marina is in on the joke of her stance too, like the best singer straddling the punk stance, Deborah Harry. At times, the sound behind Marina's vocals reminded me of Berlin, and there is some of Terri Nunn's swagger in her vocal stylings, and on other songs she mixes in a bit of Patty Smyth from her Scandal days. Marina even incorporates Smyth's tough look in the video for Radioactive.
Primadonna Girl begins right in Katy Perry territory, smack dab in the kittenish and cartoonish delivery. I bring up all these other singers because it is easy to compare Marina and the Diamonds to all of them, but that's an enormous compliment because she has her distinct sound mixed in, and can sing in so many different ways. There's a genuine wistfulness in her emotional delivery. Being a chameleon vocally is sometimes very tough to market. I'm surprised the big record execs gave Marina and the Diamonds a chance; she deserves to reap huge rewards.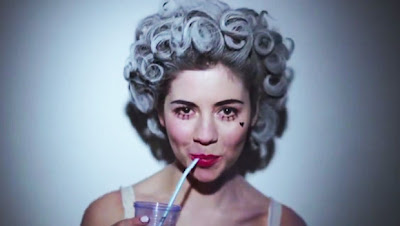 I listened to the song Homewrecker more than once and loved it more each time, especially since it followed the sad and bitter break-up song-with-a-beat called Lies. The sixteen tracks on the Electra Heart Deluxe Edition have a theme of being strong, and this is current and funny too because there are a lot of throwback beats mixed with imagery from the 60s music scene — just listen to Sex Yeah and Teen Idle and the twists the songs mix in with existing melodies. Give Marina and the Diamonds a chance this summer and you'll also be singing along.
http://youtu.be/C89O5NhWDsI
I wanna be a bottle blonde
I don't know why but I feel conned
I wanna be an idle teen
I wish I hadn't been so clean
I wanna stay inside all day
I want the world to go away
I want blood, guts, and chocolate cake
I wanna be a real fake
Yeah, I wish I'd been, I wish I'd been, a teen, teen idle
Wish I'd been a prom queen, fighting for the title
Instead of being sixteen and burning up a bible
Feeling super, super, super!!! Suicidal
The wasted years
The wasted youth
The pretty lies
The ugly truth
And the day has come where I have died
Only to find, I've come alive
I wanna be a virgin pure
A 21st century whore
I want back my virginity
So I can feel infinity
I wanna drink until I ache
I wanna make a big mistake
I want blood, guts, and angel cake
I'm gonna puke it anyway
— Lyrics from Teen Idle
May your summer fill with music to energize and fill your mind with beats that make you curious for more.
Justin
The video and lyrics and Electra Heart by Marina and the Diamonds is put out by Warner Music Group, Chop Shop Records, 679 Recordings, Atlantic Records.
Please Subscribe or Follow A Writer's Life Blog and sign up for my newsletter to the right.
To buy or download a free sample of Sandcastle and Other Stories for kindle readers or for iPad, PC, Mac, or iPhone with the kindle app, click on the book cover to the right. While at Amazon, please hit the Like button. It's a great way to show support for your favorite authors and their books. And please leave a review if the book hits you well.
Follow me on Twitter @JustinBog. Please hit the Like button on my Author Page on Facebook by clicking HERE.
Subscribe to the e-Magazine In Classic Style for tips on Travel, Dining, and Entertainment.
For Apple/Mac IT, WordPress wrangling and multimedia Publishing/Editing Services, please contact the company I use: Convenient Integration.