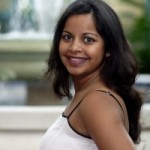 In Mohanalakshmi Rajakumar's own words from her Acknowledgements page: This collection began as a whim while I was a graduate studying literature at North Carolina State University in Raleigh, North Carolina. I took a creative writing seminar as an elective because I've always been an avid reader and, as I told the group of watchful fellow students in the course, "good readers make good writers."
What a wonderful moment for the author, whose prose is elegant and direct, something she partly learned from reading many, many great novels. I wish more authors were readers since I have met my fair share of authors who do not read. They only write their own books, all along expecting the public to read their work. Count me as a fan of Rajakumar's writing and I hope you will pick up this first collection of thoughtful tales and then begin to read the rest of her books, as I have. Rajakumar's writing is across the board, novels like Love Comes Later rise up the Amazon charts, and her nonfiction books like So You Want To Sell A Million Copies and Hip Hop Dance (The American Dance Floor) show range and a heady interest in many different subjects.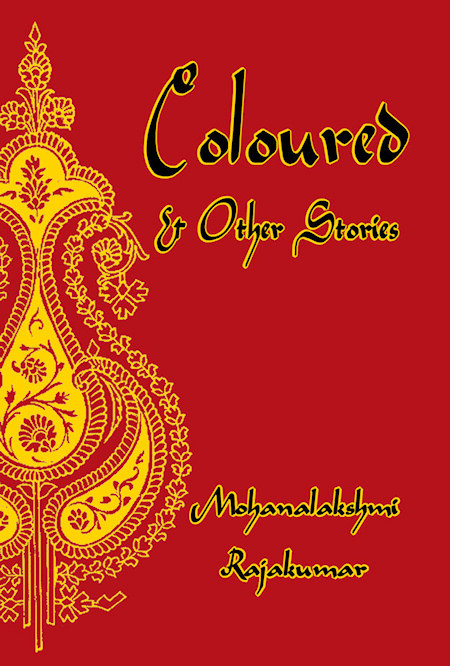 We were all sleeping, or under the delusion of sleep, crumpled, a few feet from the entryway of the temple. — from the short story Dasi
Mohanalakshmi Rajakumar, a fellow author, contacted me and asked if I would be interested in reading a collection of her short fiction. Always the skeptic, I asked for more information and she told me the title, Coloured & Other Stories, and a little bit about her background — I accepted the reading task with great anticipation. You see, along with my love of short fiction, I have a thing for other cultures, countries I know I will have little chance to experience, and Mohana's book is filled with stories of people, immigrants to America, people living in vastly different circumstances from my own. At the same time, a happy coincidence, my search for new experiences in reading lead me to the wonderful travelogue by Trish Nicholson, Journey in Bhutan: Himalayan Trek in the Kingdom of the Thunder Dragon – BiteSize Travel: Book 3, which I will be recommending in its own post in the coming weeks (please look for it and read about Bhutan and its people). August was a good month spent reading two books that filled my cultural yearning cup right up to the brim.

Mohanalakshmi Rajakumar is a writer who has lived in Qatar since 2005. She has a PhD from the University of Florida with a focus on gender and postcolonial theory. Her dissertation project was published as Haram in the Harem (Peter Lang, 2009) a literary analysis of the works of three Muslim women authors in India, Algeria, and Pakistan. She is the creator and co-editor of five books in the Qatar Narratives series, as well as the Qatari Voices anthology which features essays by Qataris on modern life in Doha (Bloomsbury Qatar Foundation Publishing, 2010). Her research has been published in numerous journals and anthologies.
Dasi is the very first story and swept me into a world I did not realize existed until that very moment. The structure, as in the brilliant film Memento, begins at the end of a woman's life and travels backwards, hitting important episodes that brought her to that end. I was enthralled and learned something new about different ways to tell a story.
Coloured, the title story, takes place in Houston, Texas, and hits all the usual themes of the different 'other' who enters into a dangerous place without thinking. I love fish out of water tales, and this story is suspenseful and sad.
From Food: That meant she had exactly one hour in which to heat up her food, eat it, and then attempt to destroy the evidence and smell before anyone came back.
Baby is a story many many families can relate to, and because of the pressure from other family members to produce a child the sadness resonates all the more. But, and this is the thrilling part of Baby, the information is given in a natural way, all the circling thoughts of a woman walking for exercise on a track come to a breaking point when a man intrudes, meets the woman, a stranger, and forces an interaction — an epiphany of the best kind. Loved this one a lot.
From Tree: She was proud of this morning libation, felt in a way it connected her to the Ganges, where priest chanted prayers in Sanskrit at sunrise.
Down begins in a typical high school English class and ponders what it means to be the other in a widening circle, surrounded by insensitive and uncaring peers, and then jumps ahead in time to a college English class where the same theme of being different is now seen as something insidious and a fraudulent practice. What is astonishing about Down is the way the story comes full circle. One of my favorite tales here.
From Truth: Other Indians were afraid of their parents, ashamed to take them into public with the henna spotted hair, cocoon-like saris, and odors of cumin and gharam masala.
Exposure is one of the shortest, yet most suspenseful tales in the book, hinging on an unexpected encounter with a bad, bad man. I like the way the tale unfolds, the fear involved in being a woman, a foreigner, alone and a long way from any family help or connections — this by choice. It is also a tale of strength, and I loved it. This is a small thing, and only a personal preference, but I would discard the use of exclamation points throughout the tales and allow the words and the sentences to stand on their own without the heavy insistence.
From Weeds: He turned the next page of Section A, wanting to find out what had happened to the child who fell in the well. Why did American papers do this? Even after a month, he was (s)till bewildered by their display of violent information. The Indian custom of covering up hurt, pretending not to be disturbed by it, was of no value here.
Plates ends the collection on a high note with a story that also takes risks with the writing rules and succeeds in the telling. The plates, hidden away in the basement of a home, shivering, become a character, their journey into one home, how they got there, part of the mystery. A story I could read again and again.
I hope you pick up an eBook copy of Coloured & Other Stories soon. The immigrant experience is strong in this collection, and the details that make up the life of these women and men the author chose to shine a spotlight on will make you feel as if you just ate from the most incredible banquet — you will be satisfied, stunned, and your thirst will be quenched. If you are as big a fan of short fiction as I am, these tales cannot be beat, and will charm and make you feel real emotion in equal measure. I look forward to more from this talented author.
Justin
Follow Mohanalakshmi Rajakumar's blog
and on Twitter @moha_doha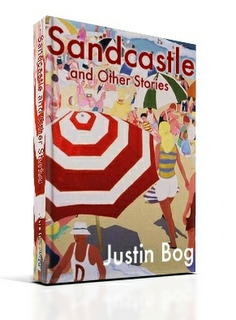 Please Subscribe or Follow A Writer's Life Blog and sign up for my newsletter to the right.
To buy or download a free sample of Sandcastle and Other Stories for kindle readers or for iPad, PC, Mac, or iPhone with the kindle app, click HERE. While at Amazon, please hit the Like button. It's a great way to show support for your favorite authors and their books. And please leave a review if the book hits you well.
Follow me on Twitter @JustinBog. Please hit the Like button on my Author Page on Facebook by clicking HERE.
Subscribe to the e-Magazine In Classic Style for tips on Travel, Dining, and Entertainment.
For Apple/Mac IT, WordPress wrangling and multimedia Publishing/Editing Services, please contact the company I use: Convenient Integration.
Even though I received a reading copy of Coloured & Other Stories, my opinions are my own, and I was as subjective and objective as possible.