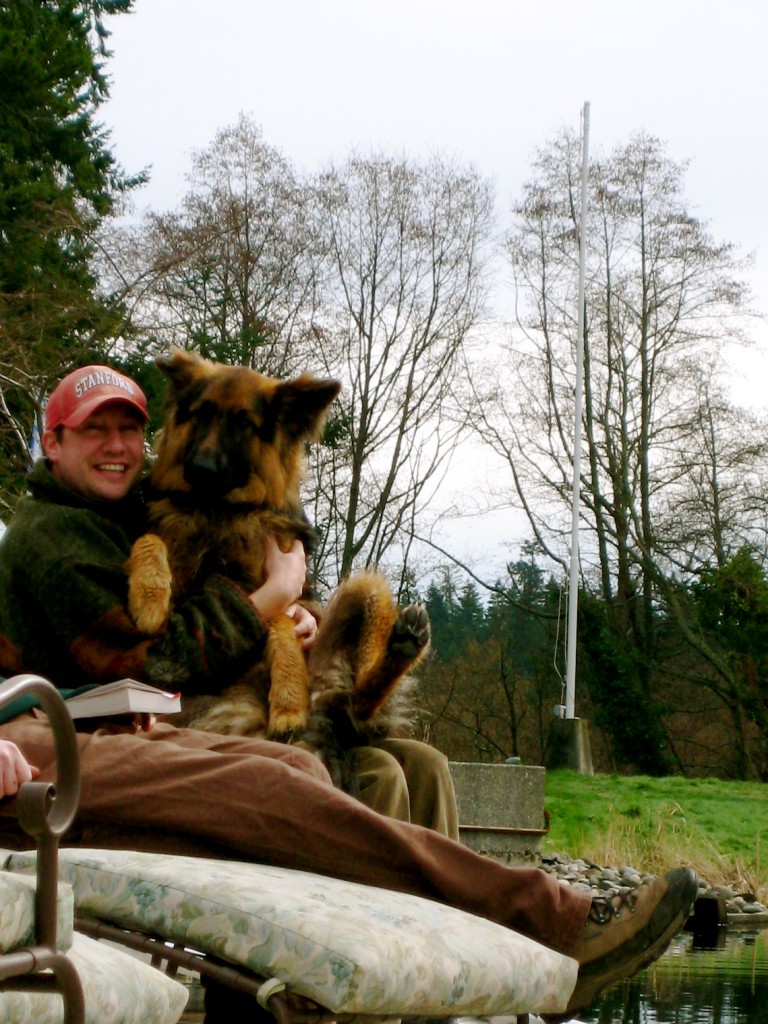 In pop culture this is a busy week that began with The Emmys.
Zippy and I weren't paying attention to the smile and cry set this year (caught up with the winners and losers the following day though) yet wondered why there wasn't a category for his four-pawed or feathered brethren.
It's the start of the Fall Television Season. What shows will sink and what shows will swim upstream? My taste still runs from Buffy the Vampire Slayer as the pinnacle, down to some of those unmentionable (some are guilty pleasures) reality shows on Bravo with the brilliant exception Top Chef, and Work of Art being the only reality shows I'll admit out loud that I watch. The rest are televised train wreck viewing, and encapsulate the sorry state of reality television, with the hordes of people who flock to their every unseemly moment or cat fight. Hey, in sports, it's why people love to watch hockey.
On Mondays, 2 Broke Girls is an interesting sitcom that aired last night. Give it a view. I skipped the former Charlie Sheen show since I've skipped it all this time because of him (not a fan, and I'm not an Ashton K fan either). I set the DVR to tape The Playboy Club, even though I'm not the typical audience member for that kind of show, and I'll watch two or three together before I make up my mind. When Terra Nova starts, I'll watch that to see why "we" were sent back 85 million years to a time before dinosaurs died out. I love Sookie St. James from Gilmore Girls, Melissa McCarthy, a surprise Emmy winner for Mike & Molly, but I don't love that show enough to watch it regularly. Hawaii Five-O was diverting attention last season, and the surf setting calls out to me, and it's the only police procedural I watched last year. The rest try to out-gruesome each other, especially Criminal Minds.
Tuesdays brings Buffy, I mean Sarah Michelle Gellar, back to television with Ringer, but, I fear, the word of mouth isn't great enough. I'll give it a view. Since I'm not a Dancing with the Stars fan (see that reality show thing I wrote in paragraph above) I watch the best sitcom of the moment, the 2nd season of Raising Hope, a show that is tender, sweet, silly, and stars Martha Plimpton in a knockout role. Okay I also watch Glee, since Sue Sylvester is as oily as the real Sylvester the Cat. I like the rest of the singing cast as well and look past the farfetched episodic narrative — at least the emotion rings true.
Wednesdays I look forward to a show on FX called American Horror Story that stars Dylan McDermott, Connie Britton, and Jessica Lange in her first Television series, playing a bizarre neighbor in a show created by those Glee guys. It goes up against CSI and Law & Order: SVU and another show that sounds great: Revenge. Fun Fact: I once sold a book to Mariska Hargitay at a bookstore too long ago in my past. Will I tune into The X-Factor? American Idol lacked his negative charm and by the end of that season I hated hearing so many platitudes and overtures of graciousness – icky pablum: find some really good critical thinkers to take J.Lo and Randy's places. So, if Simon Cowell is your thing, you're far from alone, but you'll have to set your DVR to watch Modern Family, another true comic gem. And don't get me started on H8R or Survivor: South Pacific.
Thursdays are all about the remake of Prime Suspect with Maria Bello in Helen Mirren's really large shoes, and, since I'm not a fan of Private Practice or The Mentalist, I don't have to waste DVR space. The other show that is terrific comes from the CW: The Vampire Diaries — hands down one of the best supernatural shows after a wild second season has passed. Kevin Williamson is the executive producer on a new witch-centric show called The Secret Circle and I hope the hype turns out to be real. Person of Interest intrigues me. Okay, the Charlie's Angels reboot is probably worth a first look since I remember staying up late to watch the original's first season, and I'm not ashamed to admit that. And the last show to definitely watch is Parks and Recreation. Amy Poehler is a comedic gem. The others I'm on the fence about are, still: The Big Bang Theory (I sometimes find it really annoying), ditto with Community, and The Office (am I all alone in thinking this?), and then there's Whitney, where the promos aren't as funny as the creators think, but I like her so I'll give it a try.
On Fridays, the powers that be are pitting three supernatural or science fiction/fantasy shows against each other: Fringe, Supernatural and, the newbie of the group, Grimm. And if you're not into that genre, you can always watch the umpteenth version of CSI: NY. Coming next season: CSI: Muncie! Grimm looks like a worthy contender, but the other two shows have longtime audiences. Patrick Wilson is A Gifted Man with Julie Benz in the cast after her series about a family with superpowers wasn't picked up this year. This show sounds promising: handsome neurosurgeon starts to see the ghost of his dead ex-wife who prompts him to change his selfish ways. If it's too treacly I'll stop watching immediately.
If you're in front of the television on Saturdays…aww skip it…I remember the days when Saturdays had great scripted television – until SNL begins with Alec Baldwin in his 16th appearance as host.
Sundays are all about the new show Pan Am, a Mad Men-era series centered around sexy stewardesses and pilots. Boy would I hate to be an extra for this show, sitting around in airline seats acting bored and oblivious to the rest of the attractive cast. Okay, my guilty pleasures are still The Simpsons and Desperate Housewives. I'm catching up on The Good Wife by DVD and it's a very good show worth watching.
I also like Mad Men, The Walking Dead, Sons of Anarchy, True Blood, Breaking Bad, Drop Dead Diva (I know: summer, but the season finale is next week!), South Park and 30 Rock.
I like to tell people I don't watch a lot of television. Off to finish a fantastic book, In Malice, Quite Close, and watch a classic film later in the evening after Glee and Raising Hope! Enjoy, Justin
Please Subscribe to a writer's life, Find more Travel, Leisure & Culture tips at In Classic Style and follow me on Twitter @JustinBog 😉 Whew, that's a lot of requests!