Beryl holds an ice cube in her hand as she sits in her closet. This is the first line of Audrey Schulman's 1994 novel The Cage. Her main character is trying to imagine what it will be like to sit in thirty and forty below temperatures in the Arctic; she's preparing herself as best she can.
My book thinking this week took me back to The Cage, an icy and suspenseful literary gem. Rereading the book made me remember my own trip to Tofino, and the black bears I witnessed from the protection of the tour guide's boat. These bears searched under every boulder on the shoreline for hidden crabs, and from less than ten yards away, they were nonplussed by all the touristy fuss and camera clicks.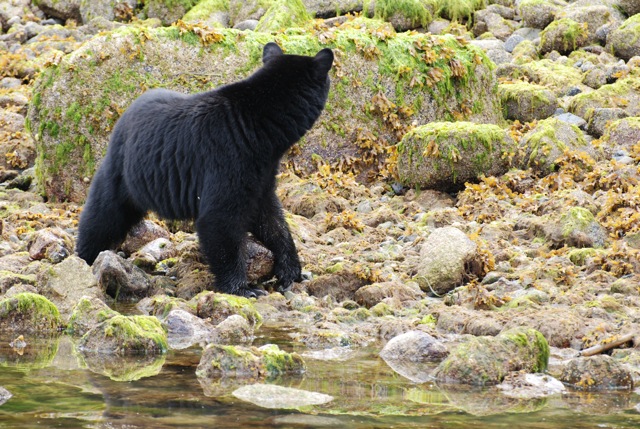 Photos were taken by my dear friend, Christa, who accompanied me on the trip to see the bears! This one is turning over the rocks, shore side, hunting for crabs.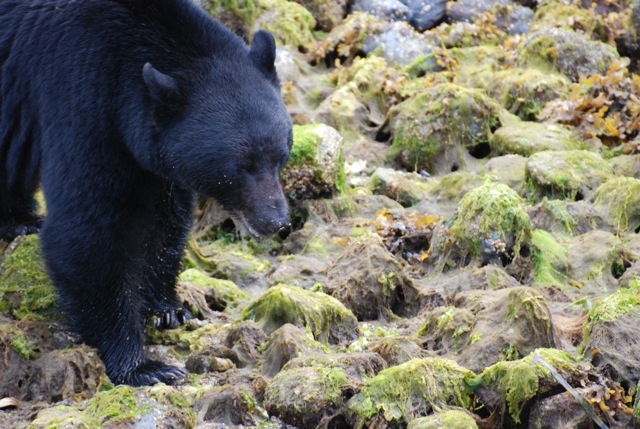 A close-up of this crab-feasting bear…very isolated on the shores of Vancouver's inner passageways. They come out at low tide.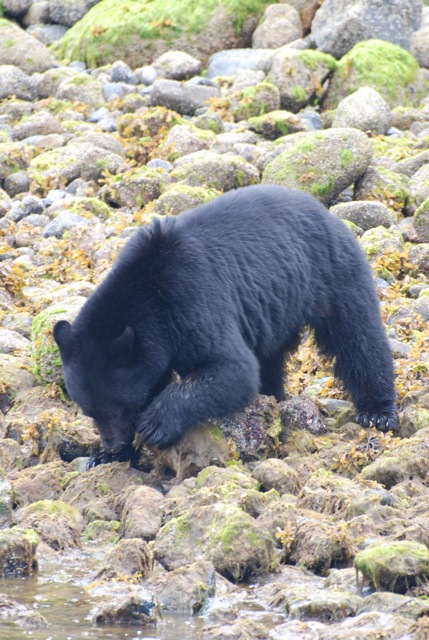 Wow…we were so close to them, ten yards maybe and they didn't mind the boat at all being nearby.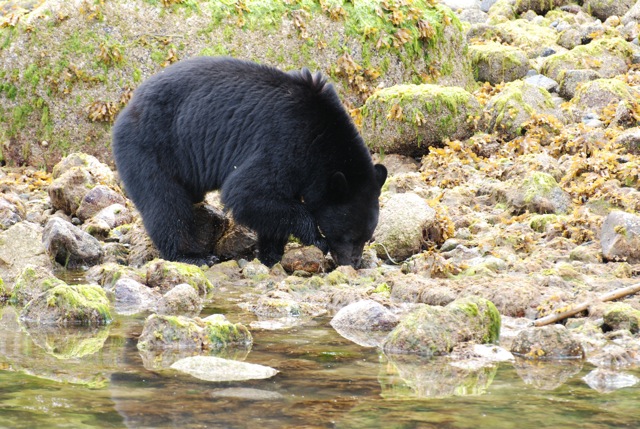 Succulent little crabs…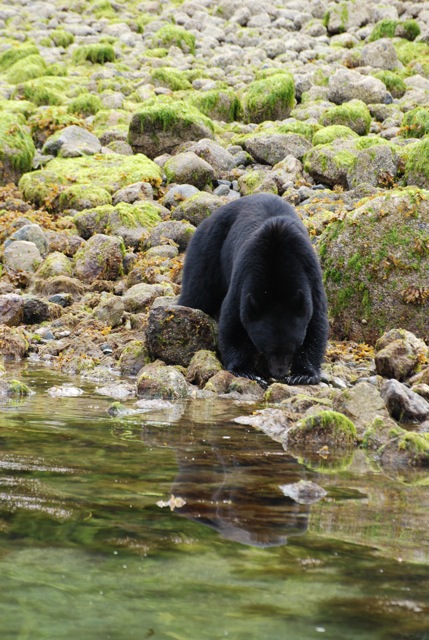 So, I recommend The Cage because it also deals with a trip to see bears, but this time polar bears, in their natural habitat, the barren tundra miles outside Churchill, Manitoba. Schulman writes about an expedition that goes terribly wrong.
A Woman.
Hungry Bears.
And only the bars of a small iron cage between them.
This out-of-print first novel debuted in the early nineties and has stuck with me all this time. I recommend it highly if you can find a used copy. Search for it. I reordered a copy to give to a friend. It's a beautiful book too, from the cover down to every icy detail. With precise, direct writing, you get an easy and an uneasy sense of both character and setting. The shrouded, almost invisible polar bears in the background of ever present white, blinding landscape, adds to the chill that begins to form around Beryl, the main character, a nature photographer, on an expedition to photograph these hungry bears from within her cage.
There are also three men in Beryl's party, and we get the interactions between them. There is a fantastic and thrilling scene in the town, the night before departure, as the group gathers for dinner, and afterwards Beryl goes on night patrol. Jean-Claude, their secretive guide, makes the sounds of animals, a snow grouse, an arctic fox, with ease. He entertains the dinner crowd. Beryl records his every move and still cannot begin to figure him out. David is a video cameraman and would rather be somewhere warm. He lives on the beach in San Diego and is out of his element, while Butler, the fourth and last member of the party, is a naturalist and writer who, like all writers, loves to share his visions of doom and gloom with a willing public. The author's naturalistic writing conveys the suspense of an adventure that goes disastrously wrong. Schulman, in the creation of such a tightly wound narrative clock, also tells a very gripping story of survival through determination and inner strength.
Now I'm off to finish reading another great book! Begin your own search for that next great book and enjoy reading it, Justin
The bears approached cautiously from the sides and back. They panted, the only sound. The large female stuck the front of her paw in between the bars. Only the claws and the first half of the front pad would fit. She fanned her long white claws at Beryl, like fingers gesturing forward…
The bear's nose moved, wet, gleaming ebony skin, the curled inner tunnel shimmering a dark red. The black drawn-in smile of her mouth pulled back, opened, the inside dark as velvet, wet. Beryl realized she'd been moving her hand toward the nose. To touch it, to stroke the small slit openings for eyes.
— excerpt from The Cage by Audrey Schulman. Published by Algonquin Books of Chapel Hill.
Please subscribe to a writer's life &
Follow me on Twitter @JustinBog
Bear photos are sole property of Christa Gallopoulos – find more at her
blog
! Stay there and take a Sunday stroll 🙂