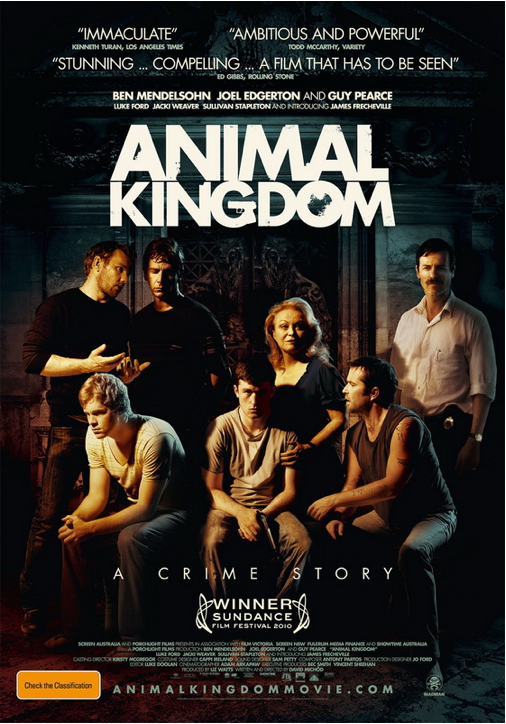 Zippy is sittin' on the dock of the bay . . . patrolling for Canadian Geese who fly into the pond every spring. And Spring has come early as the first squadron of geese have landed. They go about their business as couples, egging each other on, trying to find the right place in the cattails to settle in and "crap" up the place.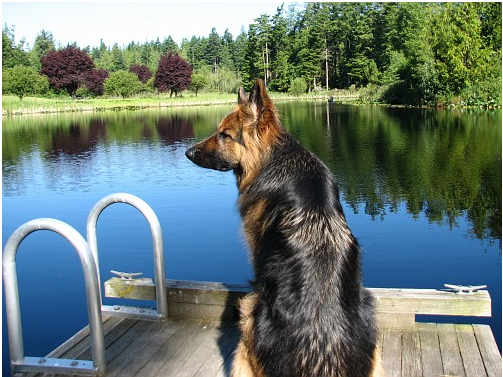 I can't blame the geese; the pond makes for a private playground. Zippy barks at them constantly and they give it right back in loud honking tirades and swim off, scorn in every stretch of their curved necks, their swift path through the water irritating Zippy all the more. Now, Zippy is teaching Kipling how to race around the pond and not allow the geese to take to land. The messy birds eventually get tired of the game and fly away to roost in many of the other lakes in the area.
Now that the Oscars are over and The Artist has won Best Picture of 2011, I wanted to point out some other great films that you may have overlooked. They are available on DVD or through your rental sites. As the Academy Awards make clear: films that get the title of Classics bestowed on them are a rarity. It's hard to fill the ten best films of the year nominations, and this year there were only nine competing. I didn't think The Artist or Hugo deserved the highest honor. No sour grapes though. They both won awards because they were about filmmaking, Old Hollywood, the legends of Hollywood, glamour, glitz, and played to the academy voters. Hugo didn't have a true beating heart within its spectacle, a beautiful decorated egg that remains hollow, and as slow-moving as a train running out of coal. I loved The Artist, don't get me wrong; it was inventive and had true joy and sorrow in the tale, but it also stayed detached, and at a distance, and kept me from completely falling for its silent spell. I felt the same disconnect with the voting bloc of the academy as I did back when Brokeback Mountain, an important, naturalistic film about love, loss, secrets, and longing, lost to Crash, a movie that starred almost all the stars of the age, and had a narrative that manipulated the characters into action (a form of glad handing). Can't change it though and time passes, but what films will you watch again? Certainly not Crash, Hugo or The Artist (well, maybe this last one just to see what all the fuss was about).
I've been taken with three older films. All are crime dramas, and each is a foreign film. Most of the films I have loved the past few years have been made outside the USA. The Millennium Trilogy from Sweden did the books justice, and made a star of the actress, Noomi Rapace, who played the original girl with the dragon tattoo brilliantly. Where was her nomination for Best Actress last year? Why wait to nominate Rooney Mara this year and not nominate and equally reward the harrowing portrayal by Rapace? This wondering being only my humble opinion, here are some incredible films to savor:
Animal Kingdom is a stunning crime film from Australia and the oily mother is a true screen villain, played by Jacki Weaver. She did get an Oscar nomination, and was the underdog to win, but that would've been really something to see.
The Square is a film noir movie and is also from Australia. I hadn't heard of it but I'm glad it was recommended to me. It has the requisite dread for the situation the sketchy characters find themselves embroiled in. I was hooked.
And finally, rent it tonight, soon, The Secret in Their Eyes; put it in your queue at Netflix. This film from Argentina won the Oscar for Best Foreign Film and I'd never heard of it before its big win. It was worth the wait, and I'll watch it again just to watch the intricate narrative unfold again. It centers on a crime, a cold case from the past and how longing for people drives action. It has a deep and romantic, hidden center.
I'm at home right now putting the finishing touches on my first eBook for Amazon: Sandcastle and Other Stories, and also finishing the last long draft of my first psychological novel, Wake Me Up, to catch small edits so that I can submit it later this summer for your reading pleasure. There's never enough time and Zippy and Kipling want to play fetch after they chase all the geese away.
Best to you and yours always, and happy viewing and reading,
Justin
Please subscribe to a writer's life & Follow me on Twitter @JustinBog.