Here is where I get to officially shout: COMING SOON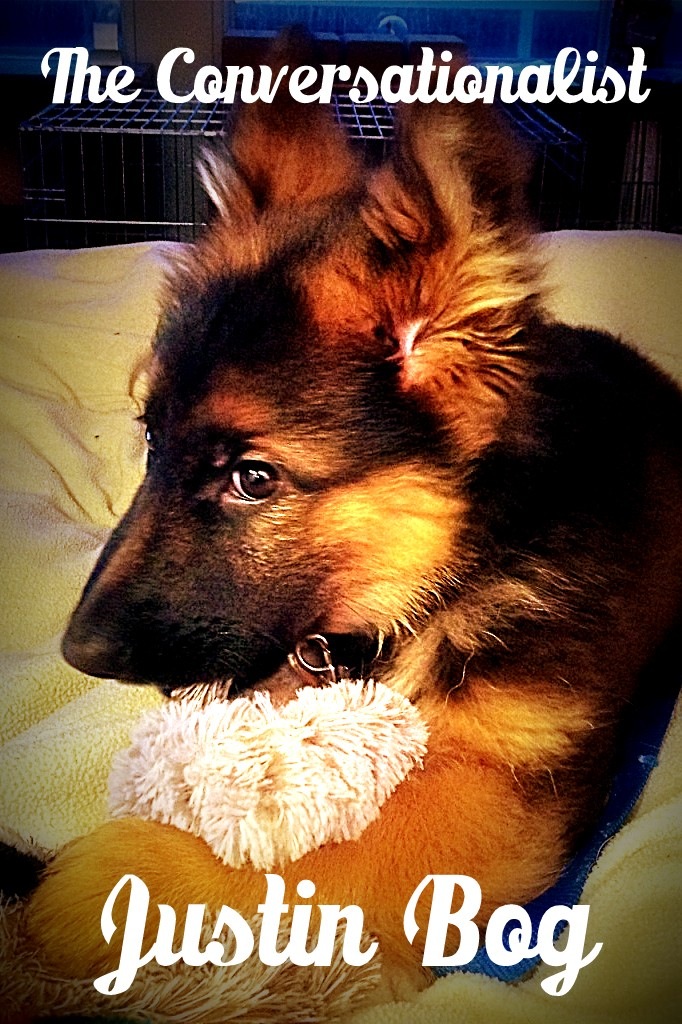 This is not the final cover to The Conversationalist . . . only a parody. Kriss Morton, Cabin Goddess, came up with this image after hearing the title. Kipling told her she wanted to be a star. If you need Kipling for your own book covers, she works for biscuits.
On this poor and neglected Writing Blog I can finally shout that my next publication will be out by June: The Conversationalist. Where have I been? To Cannon Beach and back, with a stop in Port Townsend for two days when the ferry system shut down with engineering and mechanical failure. The book signing at the Cannon Beach Book Company was a bright moment, and I will always remember the gorgeous Summer-sun day. I even got sunburned walking the beach, which filled with more tourists than many locals could remember. The town amazes me. Haystack rock beguiles. Besides being the only vacation I've taken in three years, I did get a lot of revision work completed, and now, The Conversationalist is almost ready for its debut.
The Conversationalist, a literary suspense novella will be published in May by Green Darner Press as an ebook only, on all platforms, and it will be paired with a bonus short story, Mothers of Twins, one of the psychological tales from Sandcastle and Other Stories. The story is long, divided into seven chapters, and I love the added length and the space because it allowed the main character to breathe, the tension to build in a natural way.
The book cover art is being finalized this coming week as the novella works its way into the minds of early beta readers. Originally, this tale was picked up for a suspense anthology centered around the subject of stalkers—that anthology fell apart (there are others working their way to fruition as I type). The Conversationalist is set on Fidalgo Island in the Pacific Northwest, a place where I introduce Patrick, a man who becomes the victim of a stalker who wants to teach him a lesson—Patrick is a single man who doesn't know how to date well. People always try to hide their darkest secrets, the moments in life they hope will never be uncovered; some take their secrets to the grave.
Here is the beginning of the story. I hope this sneak peek makes you curious enough to seek out the story once it's published. And I thank you for joining me on this writing journey.
The Conversationalist
by
Justin Bog
1
Wendy sits across from me and tells me she's afraid to die. She wonders what it's like; what if this is all there is? It isn't easy for me to listen to the words Wendy speaks.
My index finger traces through the condensation at the base of my martini glass as her forlorn questioning waves hit me. I don't repeat to her out loud her last yearning words in a combative tone. I want to. Inside, thoughts about life, death, endings, unfairness turned to bitterness, propagate.
"My mother died a year ago," she says, lowering her voice as she glances at the diners around us, "horribly." I don't know Wendy well enough to understand if she's embarrassed by her own boldness, revealing a personal lament right out in the open, or by her mother's ill fortune.
I watch her lips move, opening, pressing tightly together then opening again, sipping hot coffee. She didn't add anything sweet to hers.
There's a catch in Wendy's voice when she finishes her story, as if something keeps snagging on a hook down her throat. I hope the coffee soothes her ache.
"You realize you need to move on with your life, right? I mean, you're always going to grieve," I say. "It's over now. Think about what your mother would want you to do." I let her see nothing but concentration on my face, while inside I'm perplexed, a sweating liar. The image of my own mother tries to surface and it takes all I have to stifle her visage from taking over my every thought.
"I keep thinking about train accidents," Wendy says. She lifts a pale hand to her cheek and brushes a loose strand of hair away. "And how stupid they are."
I nod my head and try to listen. All I see is my mother's downturned mouth, how quick her unpleasant countenance turned into a scowl. I would flee the room, the home, walk, run away to the cliff-side pathways, meander for hours until safe to sneak back . . . mother in a gin-fueled stupor, now passed out and harmless. Wendy isn't a mind reader. She sees only steady concern, and this is too easy for me to pull off.
"How awful," I say, "no one thinks of trains anymore, even when they rush right through Seattle and northward, hugging the coastline. They stop us when we least expect it." And this isn't the right thing to say either. I can see Wendy coming to the same conclusion, and I ask her if she'd like to change the subject.
Only a month ago, Wendy, a friend of an acquaintance, took me into her confidence, or wanted to place me in that position: noble listener—I found it all a bit desperate. On that first date I drove her to a quiet, secluded dinner at The Chuckanut Manor, a family-run establishment looking out over the oyster-rich waters of Puget Sound. Once seated and waiting for a very dry martini (no vermouth and lots of olives), I'd need at least two just to settle into a functioning haze, a single glass of pino grigio for Wendy, gulf prawn and avocado cocktails to start, she allowed me to prattle on about my cat, Roadway, who needed an operation on her kidney, and how much it would cost; let me ask her what she would do: pay the horrendous and expensive bill or acquiesce to Roadway becoming roadkill. She listened to my sorry tale; it's where my mind was at on that day.
Now, a month later, I sit, foggy, a similar state of mind, in a different seafood restaurant with a better bar, two happy hour martinis downed, fidgeting with my napkin below the lip of the table, and I barely hear Wendy ask me another question. She brought a bag of them tonight.
. . .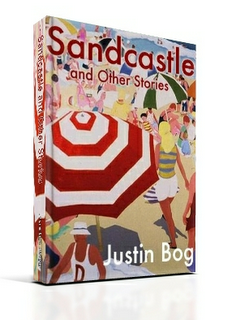 Please Subscribe or Follow A Writer's Life Blog and sign up for my newsletter to the right. For signed copies, please hit the link to the right.
To buy or download a free sample of Sandcastle and Other Stories for kindle readers or for iPad, PC, Mac, or iPhone with the kindle app, click HERE. While at Amazon, Barnes & Noble, the iBookstore, please hit the Like button. It's a great way to show support for your favorite authors and their books. And please leave a review if the book hits you well.
Follow me on Twitter @JustinBog. Please hit the Like button on my Author Page on Facebook by clicking HERE.
Subscribe to the e-Magazine In Classic Style for tips on Travel, Dining, and Entertainment.
For Apple/Mac IT, WordPress wrangling and multimedia Publishing/Editing Services, please contact the company I use: Convenient Integration.