The inspiration driving this tale was to use only one setting: a beach. And the challenge I set myself was to give Sandcastle a twist that would be so shocking that a reader would gasp and begin reading the story over again from the beginning to see how each action followed another in natural fashion. All of the pieces came into place when I imagined a balloon floating up, lost, over a crowded beach, and the pouting cries from the little girl, Jane, who let the balloon escape. All the other characters came into view after that, and quite quickly. The end too. Bam. Right at that moment.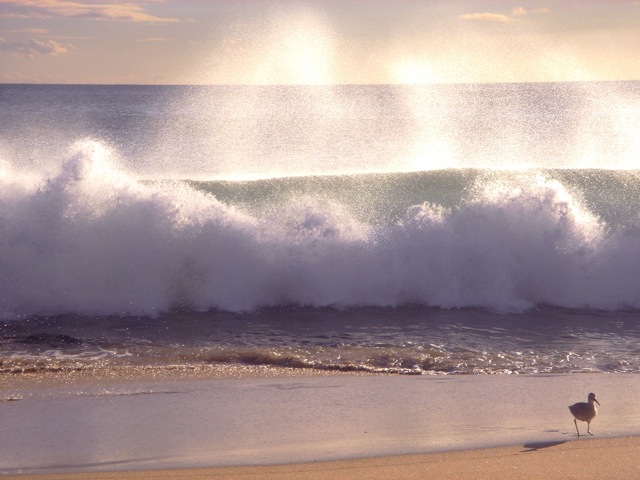 Sandcastle 
            Brenda watched the orange balloon float into the air above the beach. Dipping and circling in the hot breeze, it reminded her of the time her ex-husband had filled her bedroom with three hundred balloons to surprise her on their first anniversary. She was very glad she'd never have to see him, the brutish shit, again. Four years gone, wasted, her married years had been as predictable as her parents told her they would be.  Sometimes she imagined her parents were part of an ancient coven, where her future mistakes were played with like bitter fortunes tossed into a black cauldron.
            Jumping up and down, tugging at her mother's hand, Jane, a little girl in a tutu-styled bathing suit, started to whine.
            "I want another balloon." Jane's mother in the turquoise bikini flicked the girl's hand away.
            "No, Jane. Go play in the water. Danny Richards is down there. Do you see him? Go play with him. I have to rest. And don't bother me. You mind Danny's mother." The girl's mother sighed, wondered if the people lounging close to her on the crowded beach could hear her, picked up a bottle next to her and slathered sunscreen all over the little girls arms, shoulders, face; she then put her adult-sized hands firmly on the little girl's shoulders and said, "If I'm not here, if I've gone to the restrooms, what do you do?" The girl couldn't squirm out of her mother's grasp. "Stay with Danny." The girl's mother glanced over at a concave-bellied boy, a toddler very much the same age as her child, twenty yards away, closer to the waves rolling in, and spotted a woman in a ridiculous white-feathered one-piece swimsuit. She waved to this woman, a polite wave to someone you know but don't want to know well.
            From a beach towel space away, Brenda took the scene in.  She found herself enjoying the discomfort in their close conversation; she almost laughed out loud when Jane's mouth opened like an outstretched bow.  The kid deserves what she gets, Brenda thought.
            "But . . . I want my balloon."
            Brenda, her pistachio-colored beach chair squeaking when she moved slightly, noticed a string of saliva dribble from Jane's mouth and down her chin. Jane's mother tilted her octagon-shaped sunglasses above her forehead and stared, her eyes somehow cold and reflecting nothing, at her daughter. "What did I just say to you, Jane? Forget the Goddamn balloon. I told you I didn't want to buy it for you . . . you're blocking my sun. If you don't leave me alone and go play, you'll find yourself at home right now. Be a big little girl for Mommy. If you can do this, I promise I'll give you another swimming lesson later. Your dog paddle is coming along fine. Go play." 
To find out where Brenda's thoughts take her, please read the rest of Sandcastle in Sandcastle and Other Stories — available at Amazon now.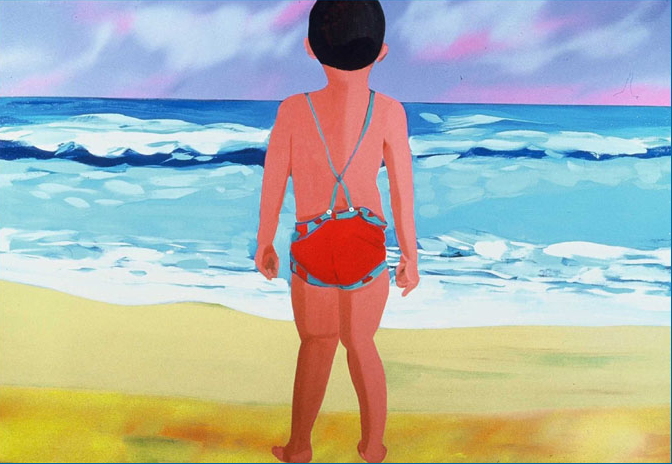 The painting of the boy on the beach was painted by my father, George Bogdanovitch, part of his Jersey Shore Boardwalk 1930's series. Find more of my father's and mother's paintings and drawings by pressing HERE.
For another sneak PEEK from Sandcastle and Other Stories, this time from the tale The Virtue of Minding Your Own Business, a tale of murder, lost love, regret, and psychological epiphany, please click HERE.
Enjoy the last waning days of Summer. A new solstice is on the horizon, and we're about to enter into my favorite season . . . it's almost the witching hour.
Justin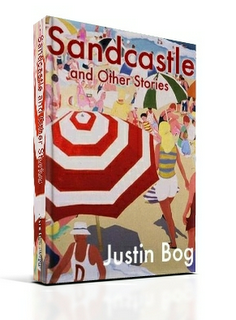 Please Subscribe or Follow A Writer's Life Blog and sign up for my newsletter to the right.
To buy or download a free sample of Sandcastle and Other Stories for kindle readers or for iPad, PC, Mac, or iPhone with the kindle app, click HERE. While at Amazon, please hit the Like button. It's a great way to show support for your favorite authors and their books. And please leave a review if the book hits you well.
Follow me on Twitter @JustinBog. Please hit the Like button on my Author Page on Facebook by clicking HERE.
Subscribe to the e-Magazine In Classic Style for tips on Travel, Dining, and Entertainment.
For Apple/Mac IT, WordPress wrangling and multimedia Publishing/Editing Services, please contact the company I use: Convenient Integration.