Ever since I watched Love Crime back in 2011 I have championed this film. There is so much to like about this movie of corporate ambition that travels to dark places. For starters, the look of Alain Corneau's film, his confident direction and style, the minimal background soundscape, all form a brittle shell of normalcy around the characters. Corneau brings back Kristin Scott Thomas and Ludivine Sagnier from his tantalizing and sexy film, Swimming Pool.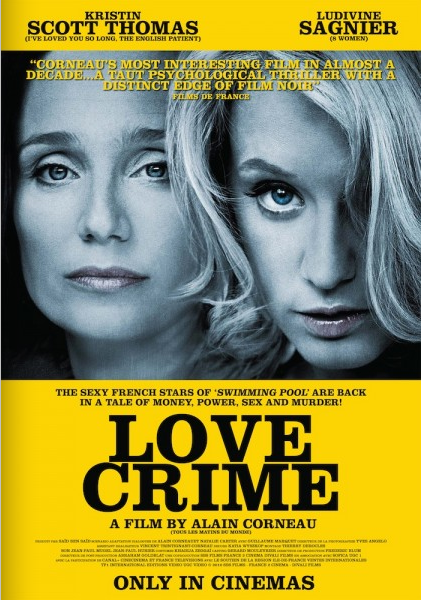 Confession: I love Kristin Scott Thomas.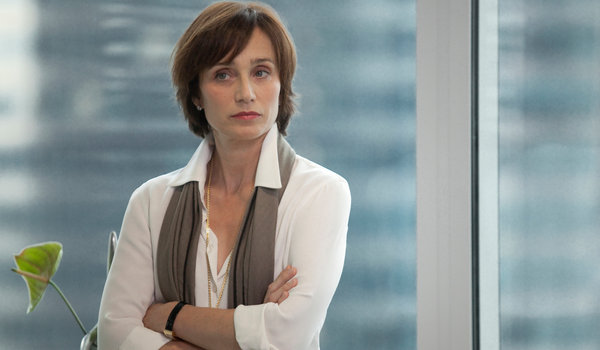 Love? How is that possible? I don't even know her.
Well, that is true, but allow me to explain: Kristin Scott Thomas is always interesting on film. The character roles she now chooses to play are filled with that special frisson of intelligence, wile, sex, love, passion, iciness, warmth, and never knowing what she, as an actor, is going to do from moment to moment — in Love Crime she gives me cold chills, but there is so much depth to what she is withholding — is it solely the ambitious nature of her character? Is there regret there too? She is one of the most fearless actors working today. Her charisma wasn't always used to benefit many of her early film projects, but it soon became clear after Four Weddings And A Funeral, that very few actors have her range, or that ever present "it" factor either.
It is fun to look back on her past films and remember her debut in Prince's reviled follow up film to Purple Rain: Under The Cherry Moon, which did have killer music as the only bonus. We all have to begin somewhere. Scott Thomas's biography has a heavy sadness, losing family at a very young age. By 19, Scott Thomas moved to Paris and enrolled in drama school. She continues to travel back and forth from British/Hollywood projects to French films. In the past five years, I have actually enjoyed her French roles much better.
Scott Thomas gained international notice in Four Weddings and a Funeral playing Hugh Grant's unnoticed friend. Then she starred in The English Patient and her Hollywood career took off for a bit before she returned to French films with a passion, starring in films that you should see right away: Tell No One (based on the very suspenseful book by Harlen Coben), I've Loved You So Long (please rent this one now and fall into a spell of longing), and now, Love Crime. She has not turned her back on English roles. Her film list grew with Sarah's Key, Easy Virtue, and one of the best films of the past fifteen years, Gosford Park, a film I can return to again and again and always find something different.
Love Crime is a wonder. It is an understated suspense film that pits Kristin Scott Thomas against an ambitious underling, the equally thrilling Ludivine Sagnier, in a game of comeuppance between two cagey women. There is very little background noise in this film. The story surprises, twisting into places I could not begin to guess. Is it possible to sympathize with each of these women? How manipulated will you feel after seeing what plays out? Okay, there are a couple holes in the plot I caught upon repeated viewings. Did these lesson my high praise? No. Love Crime is a psychological corporate thriller, and one of Kristin Scott Thomas's most inhabited and playful parts. There is a sexiness to the film as well, a joy of life in bed with, so to speak, the pursuit of anything bright that catches the eye; the tawdry actions display a love beginning to twist into noir darkness. An American film studio would have insisted on changing the tone or cutting to make it more appealing to the masses. See it and let me know what you think.
Here is the Love Crime trailer:
Enjoy this DVD and let me know what other films should be on my Must See List. Who is your favorite actor working today?
Justin
Justin Bog
Please subscribe or Follow A Writer's Life blog and find me on Twitter @JustinBog.
New Facebook Author Page: HERE.
Subscribe to the e-Magazine In Classic Style for all of your Travel, Dining, Leisure, and Entertainment tips.
Coming soon to Amazon is my new eBook of short fiction.