Formulating ideas from my inner castle keep. This is a castle in Werfen, Austria that was used in the old Clint Eastwood film, Where Eagles Dare. There was a Birds of Prey show within the castle's courtyard. The hills in the background are alive . . . some say . . . with the sound of music.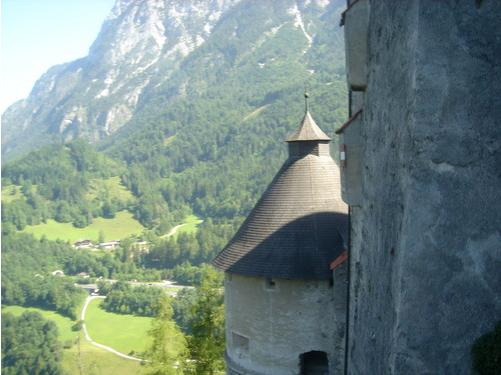 Creation, creativity, is the drive behind all artistic endeavors. My own passion is writing. Dancers experience the thrill, the lift, and the adrenalin rush bonding their bodies to a strict regimen. Musicians, artists, writers, actors, photographers, and chefs who follow a personal dream feel this creative epiphany if they exercise their artistic muse frequently. My own father, an artist, cannot stop painting. He paints because he is compelled to by an unknown, unquantifiable force. Daily, even in an assisted living home, he puts his muse to work, compiling 80 more smaller-sized paintings in the last couple months. He always has music playing in the background. I would visit his painting studio after high school where the music roared forth on vinyl; he loved listening to Opera, symphonies, classical, the greats of jazz, blues, and guitar work. He had a Red Hot Chili Peppers phase, along with a (now scorned!) disco interlude, like most of the country, that was squashed by the release of Pink Floyd's The Wall and the emergence of new wave and some punk and heavy metal hair bands in the 80s. But music is always in the background, an invisible wall surrounding the artist at work.
I know this wall well. I've chosen these ten albums because they form my barrier to the outside world while I'm writing. They enhance my hypnotized state of creation. There are no Beatles albums, although I love The White Album, and many, many of their songs, or any albums from Elvis Presley (and he was my mom's favorite rocker along with everyone who released a Motown record), Led Zeppelin, Elton John, Ella Fitzgerald, Dolly Parton, Madonna, Eurythmics, Fleetwood Mac, Jackson Browne, ABBA, and The Eagles. My generation grew up playing their music. I love listening to current music but I'm saving those picks for another day.
This List also does not include many other favorite albums. Blondie's Eat The Beat just missed a spot at #11. Florence + The Machine's Lungs album is a revelation. Paul Simon's Graceland: Wow. Bob Marley's Uprising. Bruce Springsteen's Tunnel of Love. The Roots created the awe-inspiring Phrenology. Aimee Mann's Bachelor No. 2 captivated a Hollywood director, and she earned an Oscar nomination for Best Song. Patty Griffin's Flaming Red told riveting tales of hurt and hope while Nick Cave & The Bad Seeds' Murder Ballads boldly faced darkness. Steve Earle's Copperhead Road cannot be topped by many other kicking country or rock artists…but I had to limit myself to the ten I keep hearing even when the room is silent. My Top 10 List of Favorite Albums That Help Me Create:
#1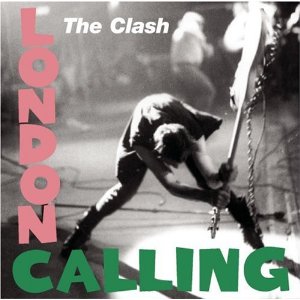 London Calling: The Clash (hands down the best album of all time)
#2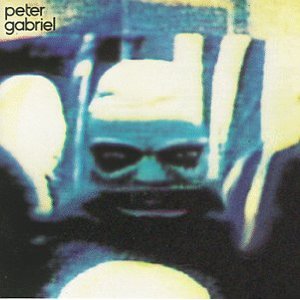 Security: Peter Gabriel (This is when he grew into a true artist with something to say.)
#3
#4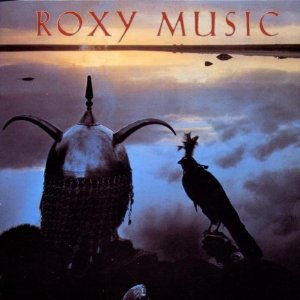 Avalon: Roxy Music (There is a majestic sweep to the sound and vision Roxy Music created. Bryan Ferry's new solo album, Olympia, sounds like the album Roxy Music should've made after Avalon – it's worth searching out!)
#5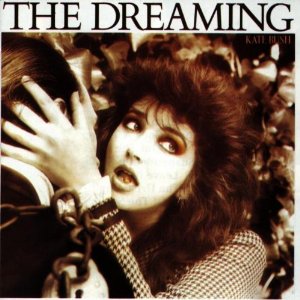 The Dreaming: Kate Bush (One of the most iconic singers of the past 30+ years. Most people love Hounds of Love better, but I listen to her dreaming-state album again and again without it ever growing old.)
#6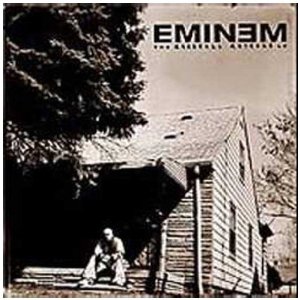 The Marshall Mathers LP: Eminem (The 2nd album by the Michigan artist and his intricate wordplay always inspires me.)
#9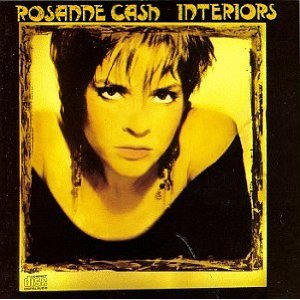 Interiors: Rosanne Cash (She writes songs, short fiction, & creates worlds of longing that rank with the very best. We all Dance With The Tiger.)
Listen to music. Live with music.
Enjoy,
Justin
To view paintings and artwork by my father and mother, George and Jan Bogdanovitch, please click HERE!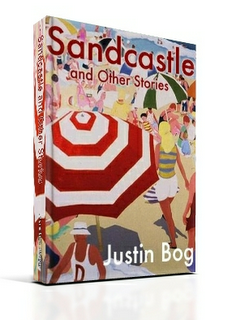 Please Subscribe or Follow A Writer's Life Blog and sign up for my newsletter to the right.
To buy or download a free sample of Sandcastle and Other Stories for kindle readers or for iPad, PC, Mac, or iPhone with the kindle app, click HERE. While at Amazon, please hit the Like button. It's a great way to show support for your favorite authors and their books. And please leave a review if the book hits you well.
Follow me on Twitter @JustinBog. Please hit the Like button on my Author Page on Facebook by clicking HERE.
Subscribe to the e-Magazine In Classic Style for tips on Travel, Dining, and Entertainment.
For Apple/Mac IT, WordPress wrangling and multimedia Publishing/Editing Services, please contact the company I use: Convenient Integration.