The official book trailer for Sandcastle and Other Stories is ready to unveil.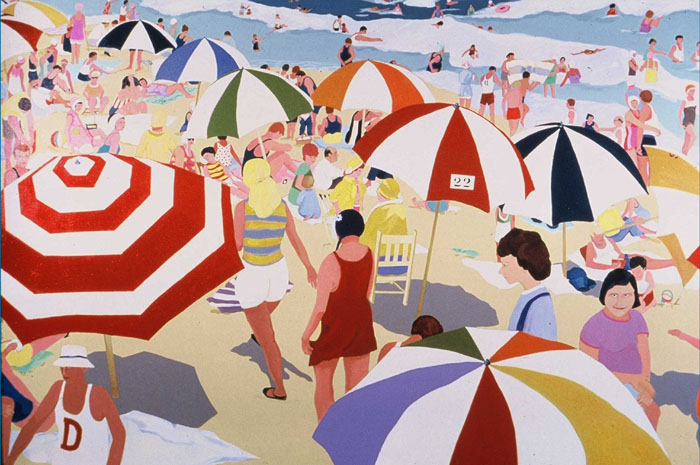 My father painted this New Jersey beach scene as part of his Boardwalk series, actually set in the 1930s. In many of the figurative work he loved to insert a family member. In this painting, my mother is there in the bottom righthand corner in the purple shirt staring right into the imaginary camera. I never noticed the little child behind her, but the woman — sorry Mom — could be Brenda from the title story, Sandcastle, and the child behind her could be little Jane trying to not block her mother's sun. Please let me know what you think of my first foray into the book trailer world by leaving a comment.
Book Summary:
Ten literary, psychological, and suspense tales collected in Sandcastle and Other Stories are nothing short of an adventure through a roiling sea of emotion. An old man twisted by fate and a lost love . . . a young girl playing on the ocean shore becomes entangled in nets of a mercurial god . . . a divorced man mired in troubles, coerced into taking a singles' cruise . . . a Hollywood actor in a television drama, always typecast as the bad boy . . . a child kept awake by night terrors, and a woman who hides her secretive personality from everyone on the beach one sunny day. Genuine voices of the characters, mixed with a clear-eyed tonal directness, make this a series with mesmerizing psychological interaction. Stories span a broad depth of human understanding and build a bridge between deepest chasms of pain and high portals of joy. Read Sandcastles and Other Stories and stand witness to unspeakable hate sitting with cozy wile, right beside unconditional love — a provocative and compelling mirror on the human condition. — Diane "Dee" Solberg created this initial summary book blurb, and it will appear on the back cover of the print version of the collection. Taken from her early beta review's first paragraph, look for Dee's full-length recommendation to appear at In Classic Style upon the book's publication. The quotes from the book trailer come from a variety of people who commented when the stories were first published on my blog over the last year.
You are one of the first to see how Convenient Integration put the pieces together for this book trailer — using motion, surf sounds, and quotes from readers of the stories — and created this compelling short film.
I thank you for your support, always,
Justin
If you would like to see more paintings my father painted during his lifetime, and more coming too, please hit the underlined link here: www.bogdanovitch.com.
Please subscribe to A Writer's Life blog and Follow me on Twitter @JustinBog.
For the latest in Travel, Leisure, and Entertainment, check out the e-Magazine In Classic Style.
For any Apple/Mac IT support or WordPress design/implementation/hosting/Multimedia Publishing, please contact the business I use: www.convenientintegration.com.
Coming Soon to Amazon: