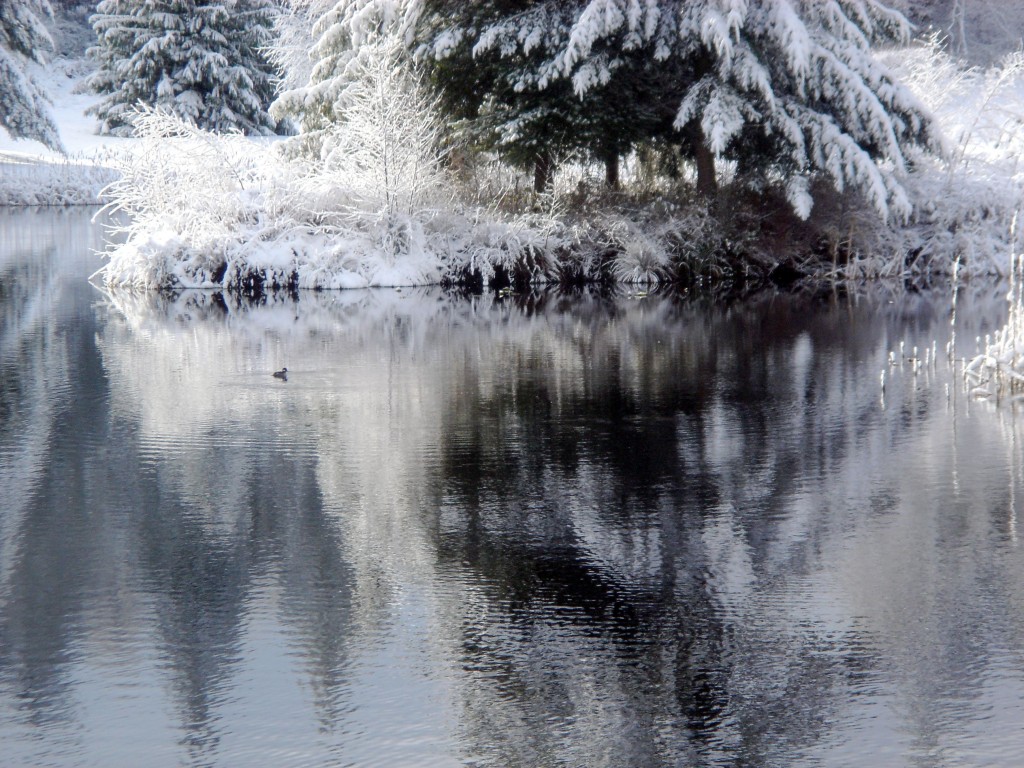 Islewood Farm is magical in the winter, and the pond is home to many different types of ducks all year round. Zippy and his pupil, Kipling, patrol the grounds but remain gentle and social dogs with even temperaments. Still, if I didn't know Zippy and came across him, I wouldn't want to make him suspicious. He is a regal, zen-like animal who loves to be chased more than to chase. One of the photos below captures this: the look of pure cartoonish joy on Zippy's features as Kipling chases him around.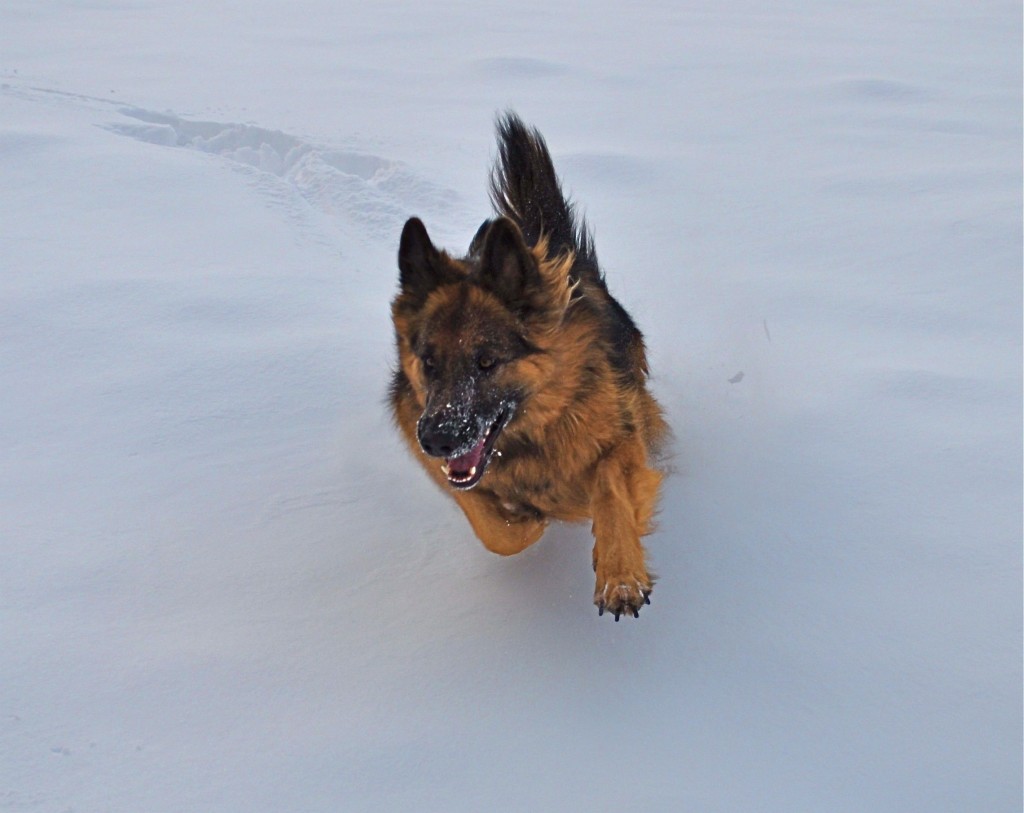 Since there is no snow this Valentine's Day I went back to an older year where Zippy romped about on this Holiday alone. Zippy's racing through a Winter snow across the meadow. It's supposed to get colder here in a week or two, and maybe snow again before Spring returns.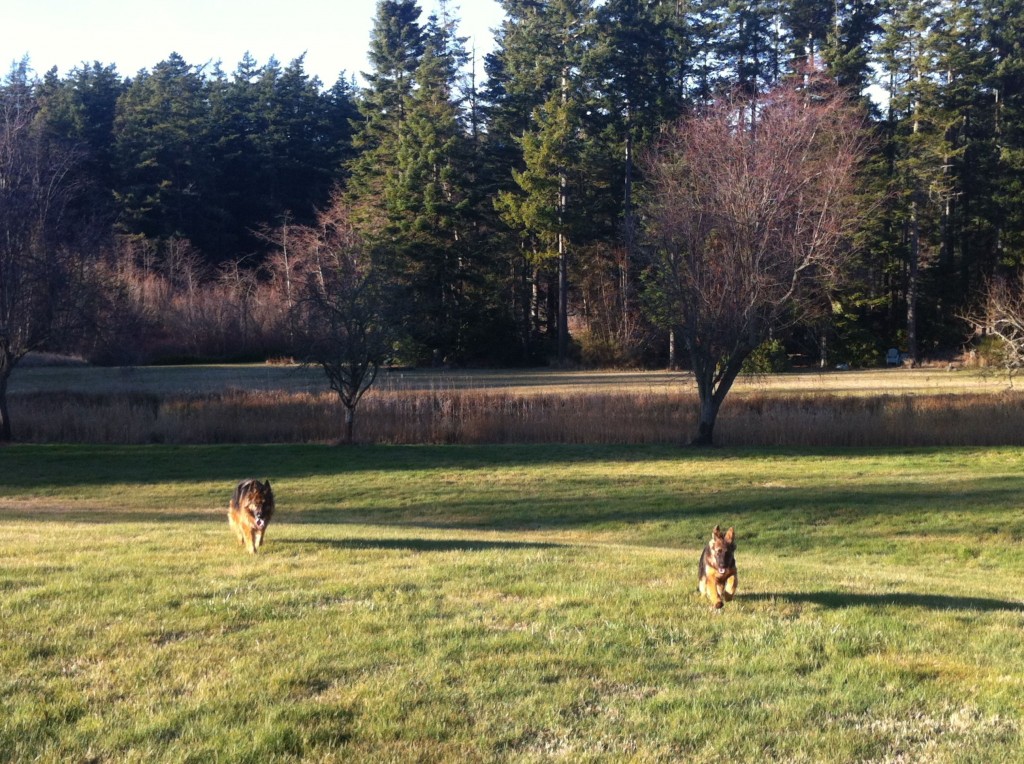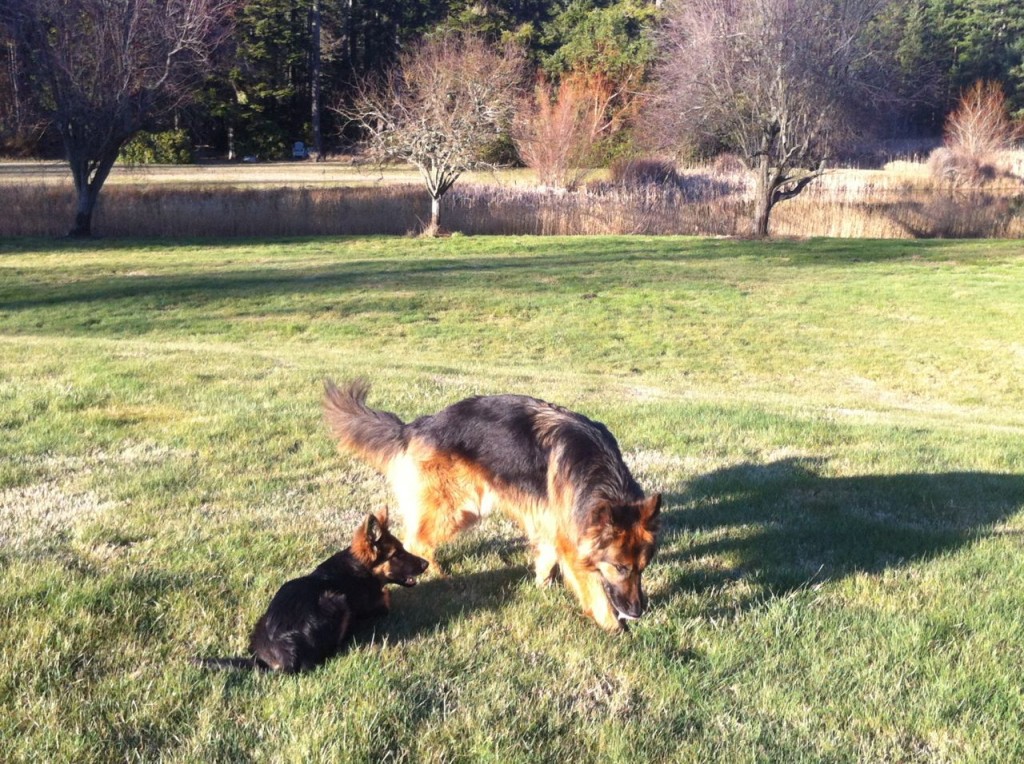 The meadow looks like this now and the trees do have the faintest bud growth. I am not a huge celebratory Valentine's Day romantic. I love spending a quality day with my mate walking the dogs and listening to the sounds around us as we startle birds, otters, the occasional deer, and once a pesky beaver we named Justin Beaver (click here to see that annoyingly cute photo).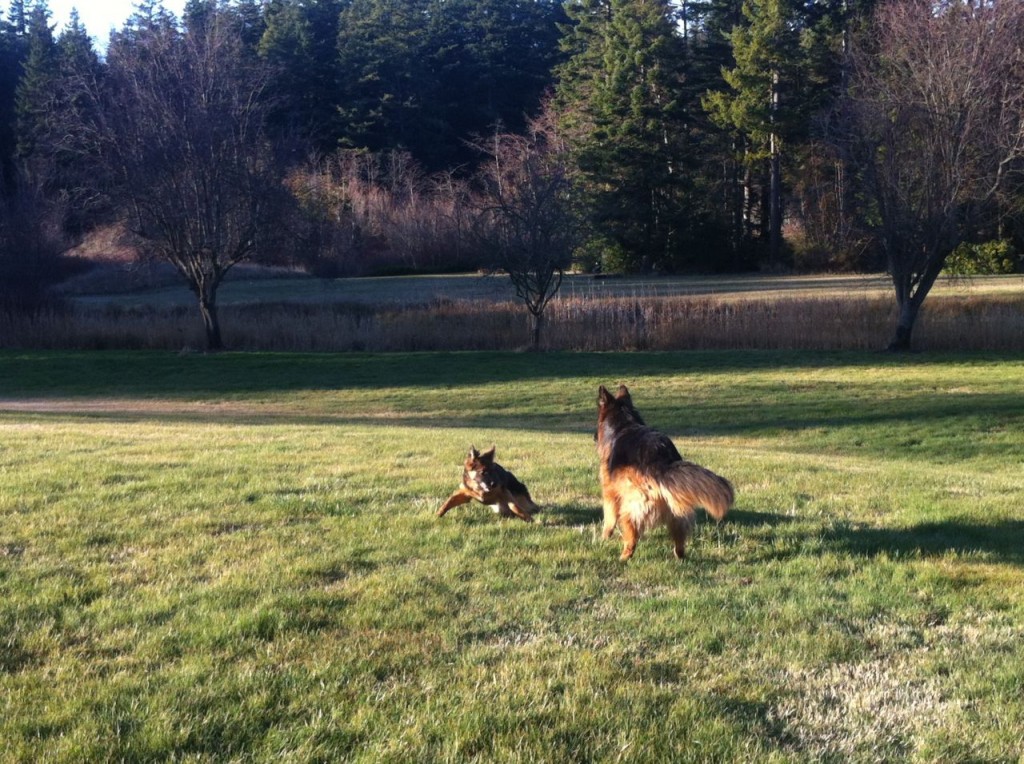 Kipling is now 5 months old. She is almost half Zippy's size, and will be there in another month. Zippy continues to teach her the ropes, pulling fallen tree limbs out of the canals is a serious job for them, and Zippy is a powerful swimmer and we can't wait to teach Kipling how to swim this summer.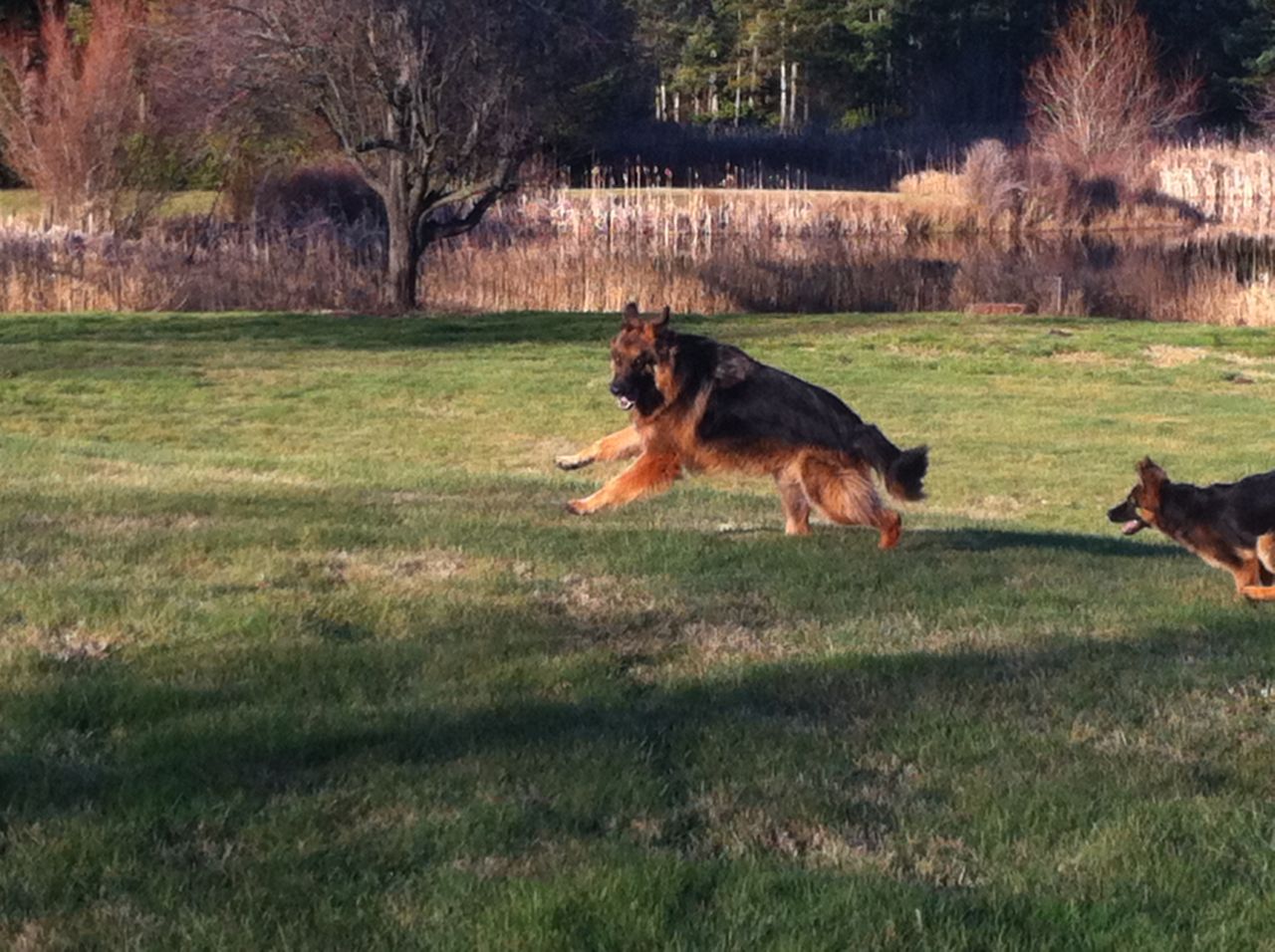 Around Islewood Farm we have a couple blue herons who always spend most of the colder months with us. We've named the first one Lyda Blue Heron, and the second one, Sasha Blue Heron, in honor of my terrific nieces. When we went for a walk yesterday Kipling and Zippy played and roughhoused next to one of the back canals. In Summer, a canopy swing makes this point one of the most peaceful on the farm, and also a top reading spot. Yesterday, while filming a short video of the mutts, Lyda Blue Heron flew by, squawking away. Zippy knows to spot her in the sky as she flies from tree to tree and he then goes on full alert mode, wonders what direction to start running after Lyda Blue Heron. Kipling chases after Zippy and doesn't quite understand the concept of 'the heron', but has a merry time. I am so happy to share this short, short video with you.
This video is better in the smaller size on the blog so that the picture doesn't stutter, although it does work on Full Screen. Apologies . . . the sound quality is wanting, but if you are able to turn up the volume all the way you will just make out the sound of Lyda Blue Heron's cry. When Zippy hears it you'll notice he becomes still, assessing her flight direction. Yes, that is me in blue jeans trying to stay out of dog and video path LOL. The song snippet comes courtesy of the Once More With Feeling Soundtrack to the Buffy the Vampire Slayer's musical episode. Tara sings the song Under Your Spell to Willow with a bit of scandalous wordplay.
Next up on a writer's life blog is a surprise book/film recommendation. This is one instance where both entertainment mediums are perfect. I will fill you in more, and maybe you can guess: This book was published after the death of the author, to great acclaim, becoming the most beloved book of this country — the author never knew the fame and the book was rejected by publishers time and again. The film is considered to be a classic as well, and there are two different versions of this movie on DVD. Please make your guess below in the Comments.
Please subscribe to a writer's life if you haven't done so already & Follow me on Twitter @JustinBog. I highly recommend that you also subscribe to the Travel, Leisure, and Entertainment online Magazine In Classic Style.
If you need any help with WordPress or a terrific certified Apple Consultant, I highly recommend: Convenient Integration.